When it comes to wealth-generating occupations, physicians usually make the top of the list. In reality, most early-career physicians are actually HENRYs (High Earners, Not Rich Yet). "High earners not rich yet" individuals have a better opportunity to get on track for wealth in the future because of their six-figure income. However, because they have little to no savings or investable assets, they are essentially the "working rich," meaning they won't be wealthy if they stop working.
This is partly because medical careers start later than other professions, after having accumulated large amounts of student loan debt from their education. In fact, according to the latest 2022 Medscape report which surveyed 13,000 doctors, the average physician graduated with $203,000 in debt. Only half of physicians reported a net worth of over $1 million, and not until the age of 55.
Today let's review net worth by age for doctors through the decades.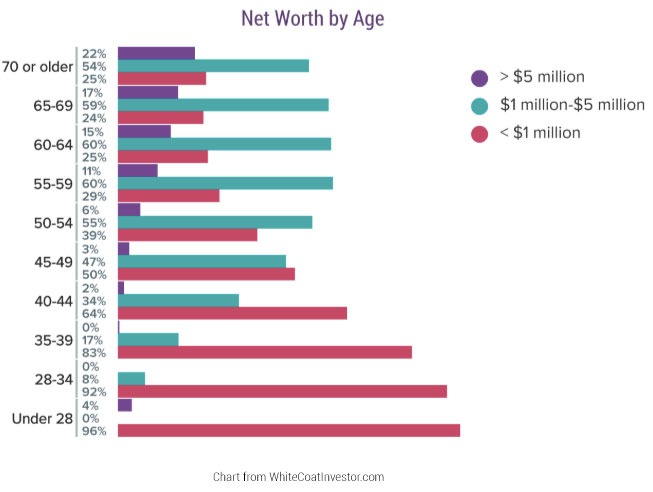 Meeting Your Goals
There are several reasons why some physicians of different age groups retire as millionaires, while others are still working into their sixties and seventies. While student debt is a significant factor, many physicians lack the savings and financial knowledge to build wealth through smart investments despite their high earnings.
Most doctors spend at least part, if not all, of their twenties and early thirties in training. The average age of a medical student is 24 when they begin a four-year medical program. This is followed by three years of residency, meaning a doctor will be 31 before they can practice independently.
GUIDES
The Essential Guide to Retirement Planning
A 4-part series that answers key questions about building your plan, positioning your investments, and more.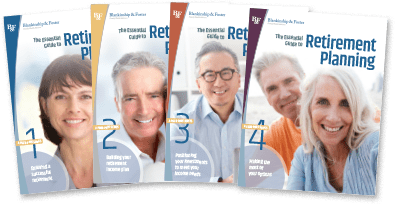 FREE Download
While doctors experience a significant salary increase in their thirties, they have large debts to pay off. Still, they can expect to have an average net worth of $500,000 if they have managed their finances carefully and have begun investing.
By the time physicians reach their forties, it is very possible to achieve millionaire status, with some physicians even becoming multimillionaires. This trend continues with doctors in their fifties, with 60% of physicians' worth at least $1 million.
By the time doctors reach their sixties, and beyond, they may be looking towards retirement. While 60% of physicians can retire with a net worth between $1 and $5 million, 25% of doctors still have a substantially lower net worth.
ACCREDITATIONS & AWARDS
We're proud to have been honored by some of the organizations in our industry.

MORE Details
When Will You Pass the $1 Million Mark?
The average age to become a millionaire is 37. If you're a physician, you may think that benchmark is unattainable, but there's no reason why you can't have a net worth of $1 million or more in your 40s if you invest wisely.
Regardless of where you are in your career, the financial advisors at Blankinship & Foster can help. We offer financial planning for physicians to help them avoid costly financial mistakes early in their career. We also work with established physicians to implement long-term investment strategies that build wealth and minimize taxes.
It's never too late to begin saving and investing for your future.
---
Disclosure: The opinions expressed within this blog post are as of the date of publication and are provided for informational purposes only. Content will not be updated after publication and should not be considered current after the publication date. All opinions are subject to change without notice, and due to changes in the market or economic conditions may not necessarily come to pass. Nothing contained herein should be construed as a comprehensive statement of the matters discussed, considered investment, financial, legal, or tax advice, or a recommendation to buy or sell any securities, and no investment decision should be made based solely on any information provided herein. Links to third party content are included for convenience only, we do not endorse, sponsor, or recommend any of the third parties or their websites and do not guarantee the adequacy of information contained within their websites.