Fee Structure
We are compensated either as a percentage of assets under management or on a flat-fee basis. This consultative approach allows your Blankinship & Foster team to provide you with objective, unbiased advice.
Our Wealth Management Service combines financial planning and investment management services for one fee.
Fees for Wealth Management Services
Assets Under Management (AUM) Fees for Investment Management Services
Assets Under Management (AUM)
Advisory Fee (% AUM)
First $1,000,000 under management
1.0%
Additional $2,000,000 under management
0.75%
Assets under management exceeding $3,000,000
0.60%
In excess of $5,000,000
0.40%
Minimum fee — For Assets Under Management less than $1,000,000, a minimum fee of $2,500 per quarter applies.
For more about our minimum account size and fees, click here.
GUIDES
The Essential Guide to Retirement Planning
A 4-part series that answers key questions about building your plan, positioning your investments, and more.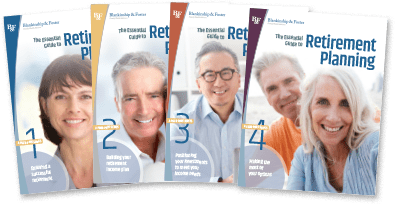 FREE Download