Financial Planning
As part of our Wealth Management service, we provide in depth and proactive financial planning. Financial planning addresses everything that affects your finances. Understanding that each person's situation is different, we begin with the topics that are most important to you. Your goals and objectives are paramount as we guide you through:
Retirement and income planning MORE INFO
We create a plan to maximize retirement income, considering all income sources, expenses, benefits, and withdrawal strategies. To ensure you stay on track, we continually review and provide guidance on your retirement plan.
Fiduciary
We are fiduciaries, and it's not just a word. It's a binding commitment to put your interests first.

Our Fiduciary Commitment
Major life transitions MORE INFO
Major life events, such as the death of a loved one, divorce or even retiring, can bring feelings of uncertainty. By identifying key issues, evaluating your options, asking the right questions, and creating a plan, we help you move forward with confidence.
Tax planning MORE INFO
To optimize your tax situation, we use a collaborative approach with you and your tax advisor. We advise on topics such as potential Roth conversions, optimizing charitable giving, and investment strategies to maximize wealth over time.
Social Security and Medicare planning MORE INFO
Social Security and Medicare benefits are vital components of your retirement. We evaluate your options and personal situation to develop a strategy to maximize your benefits. We also provide detailed Medicare advice and guidance, including guidance through the initial sign up process, continued review of existing plans, and ways to decrease your premiums through tax planning.
GUIDES
The Essential Guide to Retirement Planning
A 4-part series that answers key questions about building your plan, positioning your investments, and more.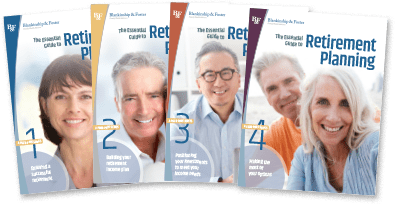 FREE Download
Legacy and philanthropy planning MORE INFO
A legacy is more than the transfer of financial assets- it is the transfer of family goals, dreams, and the desire to make an impact. We are passionate about helping families create their legacy, and we work collaboratively with you to plan for it
Estate planning MORE INFO
An estate plan helps minimize potential complications for you and your heirs. By working with your estate attorney, we help determine all necessary documents are in place, up-to-date, and that they reflect your wishes and desires.
Insurance review and planning MORE INFO
While we do not sell insurance, we recognize it plays an important role in your overall financial security. Your various insurance (life, health, disability, property and casualty, liability and long term care) works together to preserve your existing wealth and protect you from future risks.
Employer and executive benefits MORE INFO
Retirement plans, pensions, company stock, deferred compensation, and health insurance are valuable benefits offered by employers. We help you take advantage of the benefits available to you today and in retirement.
ARTICLE
Invest $100K the Right Way
At some point, you may find yourself with $100,000 in the bank and questions on how to invest it.

READ Now
Business succession planning MORE INFO
Because your business may be your most valuable asset, it is vital to form the right team to navigate the transition of your business to family or others. We can help you create and implement a thoughtful succession plan that takes into consideration the impact on your taxes, estate planning, retirement, and philanthropic wishes.
Our Wealth Management Process
Find out more about our approach to managing your wealth. LEARN MORE