Accreditations and Awards
A central part of our identity is knowledge, professionalism, and continual improvement.
Our team of professionals offers a breadth and depth of industry experience and expertise. All of our financial advisors are CERTIFIED FINANCIAL PLANNER™ certificants, while some also hold the Chartered Financial Analyst® designation — two of the most distinguished credentials in wealth management. In addition, our advisors hold a number of other highly recognized professional designations.
Accreditations
Our accreditations demonstrate our commitment to providing you with the highest level of expertise and ethical standards.
Fiduciary
We are fiduciaries, and it's not just a word. It's a binding commitment to put your interests first.

Our Fiduciary Commitment
CFA — Chartered Financial Analyst
The Chartered Financial Analyst (CFA) designation is a globally respected, graduate-level investment credential established in 1962 and awarded by the CFA Institute, the largest global association of investment professionals. To earn the CFA designation, candidates must (1) pass three sequential, six-hour examinations, (2) have at least four years of qualified professional investment experience, (3) join the CFA Institute as members, and (4) commit to abide by, and annually reaffirm, their adherence to the CFA Institute Code of Ethics and Standards of Professional Conduct.
CFP — CERTIFIED FINANCIAL PLANNER
The CERTIFIED FINANCIAL PLANNER™ (CFP®) certification is a voluntary certification that is recognized in the United States and a number of other countries for its (1) high standard of professional education, (2) stringent code of conduct and standards of practice, and (3) ethical requirements that govern professional engagements with clients.
To attain the right to use the CFP® marks, an individual must satisfactorily fulfill the following requirements: An Education Requirement, An Examination Requirement, an Experience Requirement, and an Ethics Requirement.
Certified Senior Advisor(CSA)
The Certified Senior Advisor (CSA®) is a credential awarded by the Society of Certified Senior Advisors. CSA professionals have a broad-based knowledge of the health, social and financial issues that are important to seniors, and the dynamics of how these factors work together in seniors' lives. In order to become certified, professionals must pass background checks, accept terms or attestation, and must satisfy continuing education requirements. For more information about the CSA® designation, please visit the Society of Certified Senior Advisors.
IRS Enrolled Agent
An IRS enrolled agent is an individual who has earned the privilege of representing taxpayers before the IRS. An enrolled agent, like an attorney or CPA, is generally not restricted as to which taxpayers he or she can represent, what types of tax matters can be handled, and the IRS office in which he or she can represent clients.
Certified Divorce Financial Analyst (CDFA)
CDFA® is a professional designation awarded by the Institute for Divorce Financial Analysts (IDFA). A CDFA professional is skilled at analyzing data and providing expertise on the financial issues of divorce. The role of a CDFA professional is to help the client and his or her attorney understand how the decisions he or she makes today will impact the client's financial future. In order to become certified, professionals must have a minimum of three years of professional experience in finance or divorce. CDFA professionals must also satisfy continuing education requirements.
GUIDES
The Essential Guide to Retirement Planning
A 4-part series that answers key questions about building your plan, positioning your investments, and more.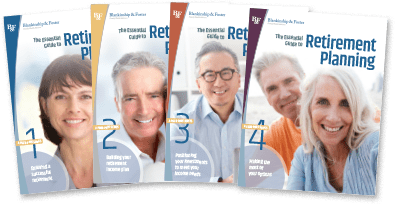 FREE Download
Awards
Blankinship and Foster has been recognized by such periodicals as Worth, Medical Economics, Wealth Manager, Financial Advisor, and other industry publications.
Named one of America's Top RIA firms by Financial Advisor Magazine
Blankinship & Foster, an independent, nationally recognized fee-only wealth advisory firm in Solana Beach, California, has been named one of America's Top RIAs in Financial Advisor Magazine's 2023 RIA survey. This is a ranking based on assets under management at year end of independent RIA firms that file their own ADV with the SEC. LEARN MORE
CTA – Invest $100K the Right Way
How to Invest $100K the Right Way
Description
How to Invest $100K the Right Way
Blankinship & Foster Named to investor.com 2020 Top Firms in California List
Blankinship & Foster received a five-out-of-five star rating by investor.com's Trust Algorithm, which combines publicly accessible data from the Securities Exchange Commission (SEC) and the Financial Industry Regulatory Authority (FINRA) with proprietary information such as the security of a firm's website. Blankinship & Foster received the highest star rating possible by the Algorithm. LEARN MORE

Rated a Top San Diego Wealth Management Firm and Financial Advisor — Five Years in a Row.
The Blankinship & Foster team provides a safe haven for individuals that are looking to secure a comfortable retirement or women going through life transitions. Their fee-only, independent, and fiduciary services create a solid foundation of trust within the client-advisor relationship. LEARN MORE
Rated a Top Registered Investment Advisor
Blankinship & Foster Named to Financial Times 300 Top Registered Investment Advisors. LEARN MORE