Investment Management
We design investment portfolios that reflect your goals, risk tolerance, cash flow and tax situation. We manage your portfolio according to your personal investment policy, and we regularly monitor and rebalance your portfolio.
We believe the securities in our client's investment portfolios should be transparent, low cost, liquid and well-diversified. That's why we use no load mutual funds and exchange traded funds to build our clients portfolios.
ACCREDITATIONS & AWARDS
We're proud to have been honored by some of the organizations in our industry.

MORE Details
Our investment management service is more than managing investments. We meet with you to discuss withdrawal strategies, income and tax considerations, changes within your portfolio's allocation and time horizon. As needed, we make any necessary changes to keep you aligned with your goals.
What we do:
What we don't do:
Market timing, "churning" or day trading.
Sell investment or insurance products such as annuities or loaded investments.
Charge commissions.
Learn more about how we Invest With Purpose in this downloadable Print Document.
GUIDES
The Essential Guide to Retirement Planning
A 4-part series that answers key questions about building your plan, positioning your investments, and more.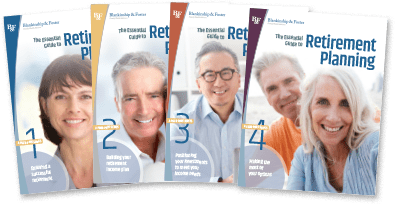 FREE Download