Events
Periodically, Blankinship & Foster hosts informal, informational seminars and other types of events for our clients and prospects. Space is limited so please call us for more information on individual events.
Educational Series
Blankinship & Foster offers two educational series for our clients and their friends:
Wise Women events are held in comfortable and friendly settings where women can come together to learn about topics of financial significance and share their own wisdom. Through these events, we help our women clients:
Feel empowered to make informed decisions
Reduce their fears about money
Gain a sense of belonging to a community of like-minded women
GUIDES
The Essential Guide to Retirement Planning
A 4-part series that answers key questions about building your plan, positioning your investments, and more.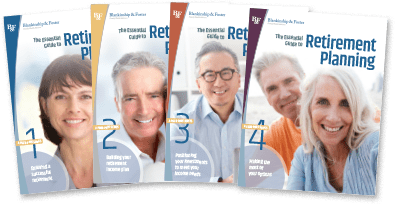 FREE Download
Living Wisely events are designed to enrich our clients' knowledge about subjects that have significant financial impact on their lives. Through these events, we help our clients:
Gain knowledge about topics relevant to their future planning
Feel better prepared for significant life changes
Interact with various experts in related fields
Here are the results of a couple of our previous events:
April 2019 – At our recent Living Wisely educational luncheon, we discussed the subject of fostering a legacy of peace and harmony. LEARN MORE
Fiduciary
We are fiduciaries, and it's not just a word. It's a binding commitment to put your interests first.

Our Fiduciary Commitment
February 2019 – At our recent Living Wisely educational luncheon, we presented "Surviving Spouse Next Steps" and a panel of estate planning attorneys and a fiduciary. LEARN MORE