The June 5th Living Wisely Luncheon "Top Financial Questions You want Answered in 2018" was attended by over 40 or our clients, associates and friends.
Key takeaways from the presentations include:
Did you know that six of the best days in the market over the last 20 years happened in 2008? If you're going to invest in the stock
market, you need to stay invested during good and bad times.
Ignore the noise! Financial media is entertainment, not information.
2018 Tax Changes – The new tax laws took away some popular tax breaks, but with good tax planning you can still reduce your taxes.
Two ways we can simplify our finances are to consolidate accounts, when possible, and to embrace technology. One of the new
technologies Blankinship & Foster is offering is MyOrgani$er, a tool that allows you to view all investment and checking accounts in one
place, monitor your financial progress and store valuable papers such as estate planning documents.
The presentation slides for this event are available for download by clicking on the image below: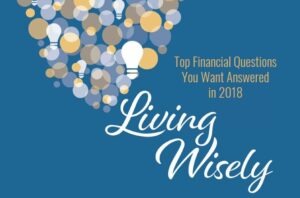 Top Financial Questions – Download PDF (3.40MB)
If you would like more information on this subject or future Living Wisely events, please contact our office.