At the Wise Women Luncheon on October 25th, Monica Ma presented Investments: Understanding the Basics.
Attendees learned about stocks, bonds, and how to use them to build portfolios. The following questions were answered:
What are stocks and bonds and how do they work?
Is there such a thing as a risk-free investment?
Why do I need both stocks and bonds in my portfolio?
The presentation for this event is available for download by clicking on the image below: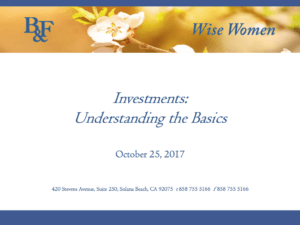 About Monica Ma: In addition to advising clients on investing and financial planning, Monica Ma CFA®, CFP®, CSA® leads Blankinship & Foster's investment committee in researching and monitoring the investments used to build our client's portfolios.
If you would like more information on this subject or future Wise Women events, please contact our office.