When you first became a physician, you may not have considered ways to earn extra income, follow your passions or satisfy your intellectual curiosity. After all, physicians like you work hard and are dedicated to their important jobs. As you've become more established in your professional career, you may have found that you have some flexibility to boost your income by adding a secondary income, also called a "Side Hustle". Not only do up to 45% of Americans say they have a side hustle (according to a 2019 survey by Bankrate), but thousands of physicians in the US are pursuing them as well.
Why a Side Hustle for Physicians?
There are many reasons a physician might pursue work on the side. Doctors have a higher amount of debt than the average worker and can experience burnout that may be alleviated by pursuing different work in their extra time. Perhaps you feel that you are not earning to your full potential with the job you're committed to right now. Though physicians are typically high-income earners, there still may be some degree of financial stress, whether it comes from high debt, lack of retirement savings, or high childcare costs. A side hustle can be part of your financial planning- it can help you pay down debt and put money toward long-term financial goals, perhaps allowing you to build an off-ramp for an early retirement.
Side hustles are popular, even for physicians. In fact, being a doctor can improve your chances of having a meaningful and lucrative side hustle. Starting a side gig can also help you explore other ways of utilizing your skills and knowledge as a physician. Pursuing part-time work away from your principal career might be just the thing to boost your annual income and allow you to feel more flexibility and freedom financially.
FAQS
We're happy to answer any questions you have about our firm and our processes. Here are answers to some of the questions we receive most frequently.

READ Now
Besides the financial benefits of secondary income for physicians, a second income may also offer opportunities to fulfill personal goals, pursue passions outside of medicine, or satisfy your intellectual curiosity. Physicians are creating art, opening shops, and investing in real estate. Often times, however, the most lucrative side hustle opportunities will take advantage of your medical expertise and knowledge. Here are a few side hustles you might consider.
Locums Tenens Work
Working locum tenens is a favorite side hustle of many physicians; some even start their career here. By providing work at healthcare facilities on a temporary basis, to fill gaps in care or occupy vacant positions until a full-time provider can be found, physicians may earn extra income and experience medicine in an interesting new way. Working locum tenens can also be a creative way to keep up your skill set or gain exposure to another city, type of facility, hospital culture, or way of practicing. There are nationwide agencies that match physicians with either permanent work or locum tenens positions. It can take some time to become credentialed for locum tenens work, which an agency can help with, so just keep that in mind.
Telemedicine
Since the COVID-10 pandemic, many patients are now taking advantage of telemedicine appointments as an affordable and convenient alternative to traditional, in-person doctor visits. It's convenient for doctors, too. Physicians can work from home, providing patient care remotely or using video conferencing software. Telemedicine can be especially important for individuals with chronic conditions or who may suffer from mobility or transportation challenges. Physicians who pursue work in telemedicine or telehealth may have decent flexibility as far as how many hours and when they want to work.
Medical Expert Witness Testimony
Lawyers will sometimes look for medical expert witnesses to give their opinion in depositions or in court about medical evidence presented in a case. The average expert witness can earn between $350 and $500 an hour for this type of work, according to The Expert Institute. If you're interested in becoming an expert witness, contact attorneys in your area to let them know you're willing to help. You can also join expert witness directories like The Expert Institute, ForensisGroup or AMFS.
GUIDES
The Essential Guide to Retirement Planning
A 4-part series that answers key questions about building your plan, positioning your investments, and more.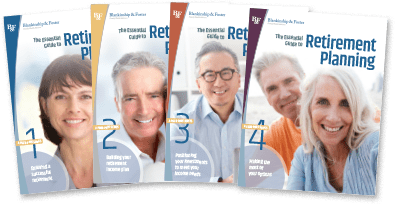 FREE Download
Medical Device Development
Physicians can play a significant role in developing medical devices for use in the healthcare industry. In fact, relationships between physicians and the medical device industry have led to life-saving innovations such as certain artificial heart valves. Physicians also developed the first reliable pacemakers in the 1950s and 1960s, with industry experts later introducing additional refinements. Many medical device companies are actually founded by physicians. Consulting with and working for a medical device developer or a contracted testing company can provide physicians with extra income.
There are many reasons to pursue other sources of income. You could choose to add a side hustle in medicine, as we've discussed above, or follow your creative passions into a whole new pathway. As financial advisors for doctors, we at Blankinship & Foster can help you analyze how the income from your chosen side hustle changes your trajectory in reaching your financial goals.
---
Disclosure: The opinions expressed within this blog post are as of the date of publication and are provided for informational purposes only. Content will not be updated after publication and should not be considered current after the publication date. All opinions are subject to change without notice, and due to changes in the market or economic conditions may not necessarily come to pass. Nothing contained herein should be construed as a comprehensive statement of the matters discussed, considered investment, financial, legal, or tax advice, or a recommendation to buy or sell any securities, and no investment decision should be made based solely on any information provided herein. Links to third party content are included for convenience only, we do not endorse, sponsor, or recommend any of the third parties or their websites and do not guarantee the adequacy of information contained within their websites.