The stock market is experiencing a downturn due to the Coronavirus pandemic. Other factors that cause the market to fluctuate include the state of the U.S. economy as well as the global economy, investor confidence and actions taken by the U.S. government, such as the recent passing of the financial stimulus package. As an individual with investments in the markets, you're likely concerned about how the Coronavirus could affect your money.
Those of us at B & F, financial advisors in San Diego, understand the anxiety you may experience in these trying times and we're here to help you develop the best strategy going forward.
GUIDES
The Essential Guide to Retirement Planning
A 4-part series that answers key questions about building your plan, positioning your investments, and more.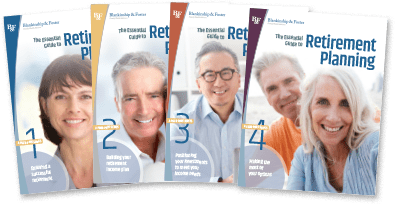 FREE Download
Should you be buying or selling?
In terms of timing your investments, the general rule of thumb is always: buy low; sell high. This means that while the market is still falling, it's beneficial to avoid selling stocks at the distressed prices. For those that are still accumulating assets, it often pays well to continue to invest steadily, even as the market fluctuates. Over time, when you're buying stocks at both increased and decreased prices, the average works out.
When the financial advisors at B & F set up your investment portfolio, we understand that the market will go up and down. In terms of how the Coronavirus could affect your money, let's talk about your 401K for example. Yes, your balance will likely go down initially, but if you continue to contribute, you are buying stocks at lower prices, which means you're getting more shares. When the economy recovers and prices go back up, your portfolio will contain a larger share of stock and will be worth more.
FAQS
We're happy to answer any questions you have about our firm and our processes. Here are answers to some of the questions we receive most frequently.

READ Now
Watching the markets closely
Are you still left feeling confused and concerned that the Coronavirus could have a negative effect on your investments? If so, then you're human. No one likes to see their hard-earned money go down in value.
The B & F financial advisors in San Diego can help you weather the storm. We put a lot of preparation into designing investment strategies that accomplish our client's short and long term goals. Our wealth management services help you plan for a future that includes uncertain times like the current ones. Call today for a free consultation and let us take the fear out of financial planning.