The last few months have been an unsettling time, with so many unknowns about the COVID-19 pandemic we are experiencing. It is a perfect time for scammers to prey on people that are more vulnerable than normal.
These fraudsters use tools such as emails, robocalls, text messages and ads on social media with great success. As of June 8th, the Federal Trade Commission (FTC) had logged more than 91,800 consumer complaints related to the pandemic. Two-thirds of them involved fraud or identity theft with losses of over 59 million dollars.
The list of coronavirus scams is long and still evolving. A scam can come in different forms: a notification claiming that you may be infected with the Coronavirus, an offer for a free mask exemption card, or an offer to invest in companies with products that can supposedly prevent, detect or cure COVID-19.
The Federal Trade Commission offers some sound guidance on how to avoid being a victim of these scams. Here are some of their tips:
Ignore offers for vaccinations and home test kits
Recent scams involve selling products that supposedly treat or prevent COVID-19 without proof that they work. They are also offering fake antibody tests. Most test kits being advertised have not been approved by the FDA and are not necessarily accurate.
GUIDES
The Essential Guide to Retirement Planning
A 4-part series that answers key questions about building your plan, positioning your investments, and more.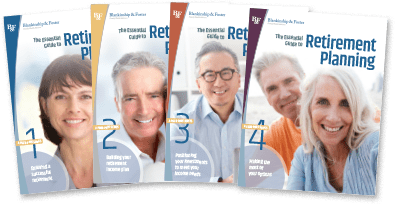 FREE Download
Don't respond to texts, emails or calls from the government
Scammers often pose as government agencies. When the Paycheck Protection Program was sending stimulus payments, scammers were using fake calls and texts to siphon those dollars. The FTC is also warning of phishing texts supposedly from contact tracers warning you that you've been exposed to someone with COVID-19. The message includes a link that, if clicked, downloads malware to your device. Messages from actual contact tracers working for public health agencies will not include a link or ask you for money or personal data.
Hang up on robocalls
Scammers are also using illegal robocalls to pitch everything from low-priced health insurance to work-at-home schemes. One robocall message purported to be from the U.S. Department of Health, warning of an outbreak "in your area."
Watch for emails claiming to be from the CDC or WHO
Do not click on links from sources you do not know since they can be phishing emails in an attempt either to plant malware on your computer or to get your personal information. If you need information, it is best to go to the sites directly. (coronavirus.gov and usa.gov/coronavirus)
Do your homework when it comes to donations
Do not let anyone rush you into making a donation. If someone asks for donations in cash, by gift card, or by wiring money, don't do it. Research the charities at Charity Navigator (charitynavigator.org) to find out more about the organization and how the donations are used.
ACCREDITATIONS & AWARDS
We're proud to have been honored by some of the organizations in our industry.

MORE Details
Stay in the know
Go to ftc.gov/coronavirus for the latest information on scams. You can also sign up to get FTC's alerts at ftc.gov/subscribe.
At Blankinship & Foster, we help our clients with far more than investment management.  We provide proactive, personalized advice on all aspects of their finances. Please contact us to learn more about how we can help you.