We've all been dealing with COVID-19 for many months now, and as cases begin to mount again, I've been thinking a lot about an interesting conversation I had with my oncologist.
First, I have to say those are two words you never want to use together: "my oncologist." Just about two years ago, I was diagnosed with throat cancer. It was caught early, so my treatment was tough, but could have been much worse. Since then, I have been doing all the things you do following radiation and chemotherapy to try to ensure you don't have to do it again. One of those things is lots of return visits to the doctor's office.
Many of our physician clients, who aren't on the front lines of COVID treatment, have reported having hours cut back as people put off routine and non-urgent medical care, so I asked my oncologist how things were in her practice. She told me that in the first month or so, things slowed down a lot. But since cancer doesn't go away, people began coming back in for treatment despite the pandemic. Their workload really hasn't changed much since.
GUIDES
The Essential Guide to Retirement Planning
A 4-part series that answers key questions about building your plan, positioning your investments, and more.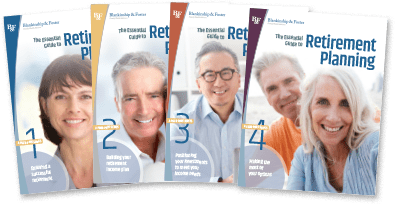 FREE Download
But then she told me that she is really worried about the next few years, which surprised me. Because people have been delaying regular diagnostic procedures like mammograms and colonoscopies, she's worried that the people they'll be seeing in the next few years will have much more advanced cancers than otherwise might be the case. As COVID cases begin to rise again this winter, she's worried that people will once again start delaying medical visits and that a lot of easily treatable conditions will be missed until they are much more serious.
Which brings me to the point of this article: good health is just as important as wealth to quality of life; maybe even more so. Having money can make some things easier. But without your health, all the money in the world won't help much.
With that in mind, here are some quick, easy tips to help you live long and enjoy the fruits of your hard work:
Exercise. Even a daily walk around the block is better than sitting on the couch watching TV. Spend some time getting your heart rate up (a brisk walk is excellent!) and enjoy the fresh air. A workout regimen that works different muscle groups is even better, but a simple walk is a great start.
Watch what you eat. As much as I love to grill and smoke meat, fresh fruits and vegetables are some of the best sources of vitamins and nutrients. You don't have to go full vegetarian, but anything you can do to cut down on red meat and processed foods will likely improve your health.
Watch what you drink. More water and less sugary soda are a good place to start. Cutting down on alcohol and caffeine is also better for your health.
Avoid smoking. Smoking or being around smokers is one of the worst things you can do to your health.
Our Team
As a client of Blankinship & Foster, you have a dedicated team of financial advisors, service and support professionals.

Meet Blankinship & Foster
Get a good night's sleep. When you get a good night's sleep, you are less prone to snacking. It also helps clear toxins from your brain that can contribute to conditions like Alzheimer's.
Hang out with friends and family. Mark Twain is quoted as having said that "to get the full value of joy you must have someone to divide it with." Studies about health, happiness and longevity point to the importance of maintaining social connections.
Get regular checkups. You would not drive your car without checking the oil and the tires occasionally, and regular medical checkups are even more important. Some diseases are not as obvious as a big new lump, so regular medical visits help you prevent bigger problems later. With reasonable precautions (like masks, social distancing, and some hand sanitizer), it is generally safe to visit your doctor or dentist and make sure little things don't become big problems.
I hope these suggestions will be a good reminder of how important it is to take care of yourself and the ones you hold dear. At Blankinship & Foster, we believe a successful retirement is about more than just money. We work with you to develop sound financial planning and a long-term investment strategy, so you can have the confidence, clarity, and direction you need to focus on the most important things in retirement- like your health.
ARTICLE
Invest $100K the Right Way
At some point, you may find yourself with $100,000 in the bank and questions on how to invest it.

READ Now