A happy, healthy retirement can last many years, and if you're like most retirees, you want to live self-sufficiently in your own home for as many of those years as possible. As time goes on, keeping up with daily chores or managing finances may become more difficult. But that doesn't mean you have to give up your independence. Here are some tips we've learned for successful aging in place and staying in control in your own home.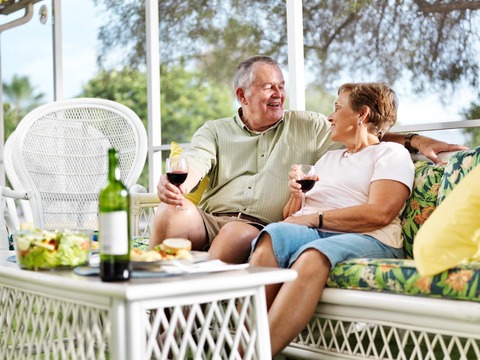 Make your home "Aging-Friendly"
The biggest enemy to your independence is a catastrophic fall. But stairs that are too hard to climb or a tub that's too hard to get in and out of are more insidious enemies. Making it easier and safer to live at home is what "Age In Place Planning" seeks to accomplish.
As we learned in the Successful Aging presentations at our recent "Living Wisely" event, there are many Age-In-Place tactics, ranging from temporary to permanent, and from "High Tech, to Low Tech to No Tech." Some of the most important are also the least expensive: improving visibility, reducing slip and trip hazards, and removing obstacles.
Set up a bill paying and record keeping system
Unpaid bills, confused records and lost information are signs that you could use some help managing your day-to-day finances. But it doesn't mean you have to give up control of your finances. A better system may be all that's required. Auto bill paying systems help many seniors ensure that things don't fall through the cracks.
A professional bookkeeper can help you set up your system, including a checklist for what your bills are, when they're due and when they've been paid. You can also hire the bookkeeper to meet with you regularly, organize and file records, and confirm that everything is being taken care of. Bookkeepers typically can work on an hourly basis or you can negotiate a monthly fee for their services.
Have a plan for housekeeping, groceries, and meals
Staying at home and staying in control means keeping your house in order and keeping yourself healthy. Consider these services to help with the day-to-day:
Housekeeping and landscape maintenance – Hire a professional service that vets their employees, carries insurance, and bonds or insures against loss or damage.
Groceries – Use a grocery delivery service. Most of the leading grocery store chains offer the service, and most do not charge a premium for the delivered goods. Some like Amazon Prime Now allow you to shop from a few different stores in the area and have it all delivered as one order.
Meals – Consider using a meal delivery service. There are many to choose from, and the cost can be quite affordable, especially if you order a few days' worth of meals at once. Some services deliver raw ingredients ready to be cooked, and some, like Munchery, will deliver freshly prepared and cooled meals the same day ready to re-heat.
Get help with transportation
Nowadays, there are many ways to get around without driving. People young and old already depend on the new breed of taxi services like Uber and Lyft, and new services tailored to seniors are being offered by many companies. Most require you to use a smart phone to hail a ride, but with services like GreatCallRides you can use a regular phone or a Jitterbug Phone (a smartphone especially for seniors). You can keep the cost manageable by contracting with a reserved transportation service such as EasyRider, who charges by the trip, not by the mile.
Keep your family in the loop
Keeping the ones who love you in the loop is critical to keeping your independence. If your loved ones don't know you are OK, their anxiety will lead to more pressure for you to be in a supervised situation. Technology can really help with this. Communication devices, reminder and alert systems, sight aids and "smart" home systems can keep you connected with your loved ones, and also make it safer to be on your own. Here are two great articles on technology for seniors: 5 Ways Technology Can Help Older Adults and Technology that Supports Aging in Place.
Be ready for an emergency
Staying self-sufficient does carry the risk of being alone if an accident happens. Be prepared for this contingency with an emergency alert system. These have come a long way since the simple devices introduced in the 1970's. There are many options now for specific situations and risks, and for your preferences. This article compares some of the different options available: consumer reports what to look for in a medical alert system
With planning and forethought, you can successfully age in place, maintaining your happy, healthy and independent retirement for many years. At Blankinship & Foster, we help retirees keep on top of all aspects that affect their financial situations. We're there to help with changes and choices that come along throughout every step of retirement. Contact us to learn more about how we can help you.