This is probably not going to sound all that romantic. I will even admit that my Valentine's suggestion probably is a lot more practical than most people would normally consider. There's no jewelry involved, though a box of See's candies and a rose would round things out nicely.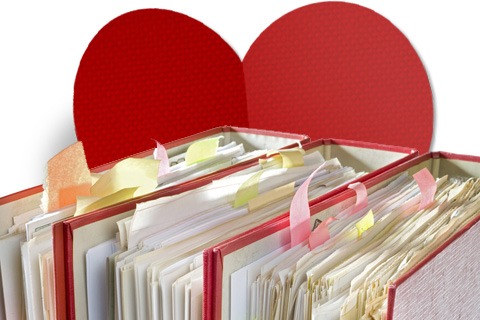 For many couples, especially those who have been together through the tough early years, financial matters settle into something of a routine.
"You buy the groceries and gifts, I'll figure out how to pay for them."
"You balance the checkbook, I'll manage the investments."
"Just leave it all to me, dear, we're doing fine and you have better things to worry about."
The fact of the matter is that most couples have to divide the labor out of necessity, just to ensure that everything gets done. But what happens if one of the two of you is no longer able to keep up their half of the bargain? There are plenty of ways to imagine how this could happen: military deployment, disability, illness or worse.
Would your spouse be able to pick up where you left off? Would he or she be able to find everything if you weren't around to locate the important documents and records? For many couples, the answer is no.
As devastating as the sudden departure of a loved one can be, it is too often compounded by a survivor's lack of knowledge about the family finances. Just because one person is gone doesn't mean that the bills don't still need to be paid, or the tax returns filed.
My Valentine's suggestion is that you sit down together, as a couple, and go through your finances together. Think of it as the chief financial officer presenting an annual report to the board of directors. You lay out the savings and checking accounts, the credit cards, the investments, etc., so that you both can go over the accounts. Dust off the estate plan (will, trusts, etc.) and your insurance policies while you're at it.
This isn't the time to criticize the spending or 401(k) performance; this is a time to share information about the family finances, sources of income and sources of expenditures. It is a time for understanding.
So why Valentine's Day? When else are you going to do it? There's less going on in February than many months, and you'll have that first wave of holiday credit card payments to go through as well. Besides, it's time to start putting things together to prepare your tax returns. You need to sort through most of this information anyway, so why not do it together?
The point is sharing, and preparing each other for the unexpected. If you can spend a few hours this weekend cleaning up your files, and discussing your finances with your spouse (or partner), you will both be much better prepared for the unexpected, even if it's only an earthquake. Take the time to create one summary sheet listing everything (account numbers, amounts, locations, contact information, etc..
I went through this exercise recently with my father. He was in the hospital for several weeks, and my mother just didn't know where everything was. She was making piles of bills that needed to be addressed when he got home. It's taken three visits now for me to get a solid handle on their finances, and to ensure that all of their important bills got paid (utilities, insurance, mortgage, property tax, vehicle registration, etc.). My mom had no idea where any of the records or supporting documents were.
If you can make life's biggest challenges a little bit easier for you and your spouse, what greater gift could you give? Especially if your follow it up with a box of chocolates, some champagne, and dinner at a nice restaurant.
At Blankinship & Foster, we specialize in making managing your finances simpler and easier. To learn more about how we can help you, please contact us