As senior family members age, it can be a time of uncertainty. Whether sudden or gradual, changes in the senior's health can leave the family scrambling to coordinate caregivers, medical treatment and financial matters. A good support team can be imperative. This support team usually consists of a financial advisor, an estate attorney and an accountant. To help meet the challenges, many families are hiring a professional geriatric care manager as a key member of their support team.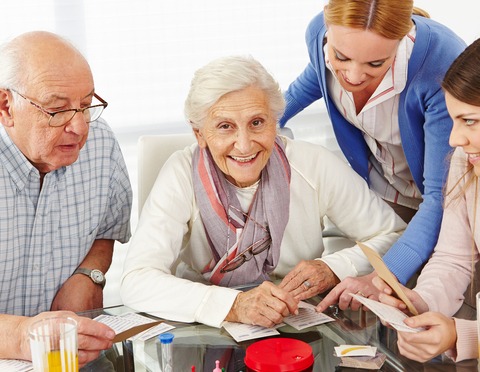 What is a Geriatric Care Manager?
A geriatric care manager is a specialist trained to help families through the process of caring for older relatives. According to the National Association of Professional Geriatric Care Managers, the goal of care management is to decrease family stress and increase the quality of life in a holistic way. Amy Abrams, from Elder Care Guides (a San Diego Care Management Company), states that the most important service a care manager can perform is to help the senior and their families make informed decisions.
Geriatric care managers can perform a variety of services. These services include:
Determining the types of services that are right for a loved one and assisting the family to engage and monitor these services
Helping families evaluate residential housing or home care options
Coaching and advising family or hired caregivers
Keeping family members and professionals informed as to the well-being and changing needs of the senior
Assisting with the management of doctors' appointments and medications
Monitoring the senior at home and recommending technologies to add security or safety
Choosing the Right Geriatric Care Manager
Geriatric care is a growing and highly diverse industry. Care managers have various backgrounds and can be found privately or through an agency. Since this is an unlicensed and unregulated industry in many states, it's important to take the necessary steps to find a reputable geriatric care manager. One resource for finding a care manager is to conduct a search through the National Association of Professional Geriatric Care Managers. This association requires its members to have formal higher education, established and supervised work experience, and professional certification.
Another important part of choosing a reputable geriatric care manager is to have a thorough interview process with the candidates. Some important questions to ask are:
What is your background? What certifications do you have?
What is the structure of your company? Do you have a solo practice or are you part of a company with a team?
Do you work full time or part time? Are you available for emergencies?
What are your fees and what can I expect in respect to fees?
What will you do and what will you not do?
How do you communicate with the family about the needs of the loved one?
What to Expect from Working with a Geriatric Care Manager
During the original assessment, the geriatric care manager visits the family member in their current setting. The primary objective is to clarify the senior's goals and develop a plan for accomplishing those goals. The care manager will see what is working, what is not working and what gaps exist.
Geriatric care managers are paid by the hour. In San Diego, the hourly cost can range from $100 to $175 per hour with the average cost of $120 per hour. All time spent helping the senior is included. This would consist of time driving to and from the senior's home, face-to-face time with the senior, and time on the telephone.
One should expect more expenses up front as the care manager assesses the situation and makes the necessary arrangements. After the initial period, things should settle down. On average, the ongoing amount of time engaging a care manager's services is approximately four hours per month.
A geriatric care manager can be an important part of the support team needed to guide one through the aging process and bring peace of mind to the aging loved one and their families.