You hired your financial advisor with the hopes of getting sound advice to navigate your financial matters. But like any relationship, there may come a time when things just aren't working out. Whether it's high fees, lackluster customer service, or bad advice, recognizing when you should fire your financial advisor is essential for your financial well-being.
In this article, we'll explore the steps to take when firing your financial advisor, plus what to expect once you do.
Take Your Time
Before you fire your financial advisor, give yourself a moment to consider your options, weigh the pros and cons, and reassess your financial needs. You may even need to take a few months to educate yourself, craft your own financial plan, and write an investment policy statement. These proactive steps can help you make an informed decision before rushing ahead.
Having said that, there are several reasons why someone should fire their advisor, keeping in mind that every situation is unique. Here are a few:
Bad financial advice
Poor communication
Lack of transparency
High or hidden fees
Not meeting your financial goals/Consistently underperforming investments
After assessing your financial situation, if you're ready to move on, you have three options to consider:
DIY. If you are comfortable managing your own money, you could transfer investments to an online broker and handle things yourself.*
Robo-advisors. These are an alternative for people who aren't comfortable managing their own investments but can't or don't want to pay the costs of a fee-only advisor.*
Find a new advisor. If you want someone trustworthy to guide you through the process, consider hiring a fiduciary "fee-only" financial advisor. Fee-only advisors charge a set fee for their expertise, and therefore do not have a financial incentive to push certain funds or sell your insurance.
GUIDES
The Essential Guide to Retirement Planning
A 4-part series that answers key questions about building your plan, positioning your investments, and more.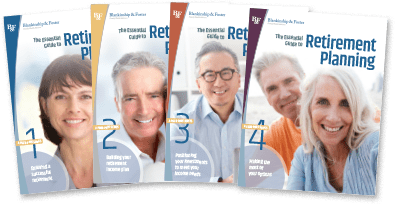 FREE Download
* CAUTION: If you are thinking of striking out on your own, make sure you have the time, temperament, and expertise to manage your financial life. Ask yourself: Do you have a clear strategy for managing your investments? How will you reduce taxes over your lifetime? Will you be secure when the market forces take a downturn? Is there a risk that financial decisions you make could cost you more than the fees you would pay a well-qualified advisor? In essence, your plan should maximize your return on investment while managing risk.
Once you're ready to move on, here's how to fire your financial advisor:
Review Your Contract: Most financial advisory agreements have specific terms and conditions about ending the relationship. You might need to give notice, or there could be termination fees.
Gather Your Assets: Make sure you have your investments and account details in one place. This will help ensure a smooth transition, whether you're moving to another advisor or managing things on your own.
Request a Copy of Your Investment Records
Ask About Fees, Sales Charges, and Penalties: You may need to pay some fees to transfer your account, plus commissions to liquidate some of your stocks and mutual funds.
Exit Gracefully: As a professional courtesy, set up a meeting (in-person or virtual) and discuss your decision. Just be honest, straightforward, and keep it simple. If you're working with a new advisor or custodian, they can send a form on your behalf, asking your former advisor to liquidate your accounts and send your money.
Make It Official: After your chat, follow up with a written notice. Keep a copy for your records.
Transfer Your Assets: If you're switching advisors, your new and old advisor should ideally communicate during this period to ensure a seamless transition.
Getting More From Your Money
Thinking of cutting ties with your financial advisor? Breakups are never easy, especially when dealing with the delicate subject of your finances. Before you fire your financial advisor, however, dig deep into your research and read the fine print in your contract. Hiring a new financial advisor is a decision that deserves careful consideration.
Blankinship & Foster, San Diego family wealth advisors, is a dedicated fee-only advisor and fiduciary. We are committed to providing insightful and compassionate financial planning and investment management guidance to our valued clients. For more questions on our services, check out our fee structure and our FAQs.