Have you ever applied for a loan and been told you need to provide a personal net worth statement? Did you have one ready? A personal net worth statement is an important tool that shows the financial health of an individual at any given time. They're sometimes called balance sheets or financial statements. Even if you're not looking to borrow money anytime soon, creating a personal net worth statement can be beneficial.
What a Personal Net Worth Statement does
A personal net worth statement shows your net worth which is your assets minus your liabilities. It shows what a person has in cash if they sold all their assets and paid off all their debts.
By creating a personal net worth statement, you can get an accurate overall look at your financial status. You'll soon have a clear idea of what can be simplified, eliminated, or combined. The overall view provided by a statement like this will help you measure the progress of your financial goals.
GUIDES
The Essential Guide to Retirement Planning
A 4-part series that answers key questions about building your plan, positioning your investments, and more.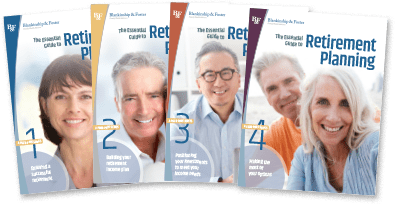 FREE Download
How to create your own Personal Net Worth Statement
The key to an accurate net worth statement is to be as complete as possible and resist the urge to overvalue your assets. We've outlined a few simple steps you can take to create your own personal net worth statement.
Step One: On the left side of a page, list your assets and the value of each. Use subcategories within the Assets column to see what assets can be combined or simplified. Subcategories can include Cash, Investment Assets (taxable accounts), Retirement Assets (401(k)s, IRAs), Cash Value of Insurance Policies, Business Ownings, Real Estate, and Personal Assets (market value of home, vehicles, jewelry, etc.).
Step Two: On the right side of the page, list your liabilities and the value of each. Liabilities can include things like mortgages, a home equity line of credit, car loans, student loans, tax debt, alimony or child support, or outstanding credit card debt.
Step Three: Calculate your net worth. To do this, subtract the amount in your liabilities column from the amount in the assets column.
NET WORTH = TOTAL ASSETS – TOTAL LIABILITIES
We've included this sample personal net worth statement for you to use as reference. (Click here)
ACCREDITATIONS & AWARDS
We're proud to have been honored by some of the organizations in our industry.

MORE Details
Using your Personal Net Worth Statement for long term success
Your Personal Net Worth could be positive or negative, and tracking it over time is an important step in attaining long-term financial success. A negative net worth isn't ideal, but it's no reason to throw in the towel, either. Over time, your personal net worth should be on an upward trajectory; your wealth should increase with careful management and wise decision making. While personal net worth is just a number and only one part of your overall financial picture, it is a good way of seeing the bottom line and knowing where you stand. Perhaps you'll see financial habits emerge and can course-correct to improve your net worth down the road.
Meet with a wealth management advisor at Blankinship & Foster to review your personal net worth statement. A financial expert can assess your overall financial health, analyze the liquidity of your assets, and help you put together a debt reduction or investment plan. Using this "zoomed out" take on the health of your finances, together, you can appropriately plan for the future, reach your goals, and keep track of progress. There's power in seeing your total financial picture. Create your own personal net worth statement and see if you're heading in the right direction!