It's been said that the road to success has many turns. When the success we're seeking is financial independence, the road can be bumpy, and the next turn can take you on a life-altering detour.
Getting past uncertainty
Managing finances takes focus and diligence even in the best of circumstances. When life takes a major turn, it can become much more difficult. Unforeseen situations such as divorce or the death of a spouse can disrupt the activities that were occurring and throw the household finances into chaos. This can have a detrimental effect on your biggest financial goals, such as retirement.
Steps to take in a divorce
In the case of a divorce, figuring out your finances can seem overwhelming. Here are a few of the most important steps to take:
Start fresh bank accounts. Open your own separate checking account and update links such as auto bill pays and automatic deposits. This will ensure you are in full control of the money needed to pay bills and expenses.
Know your situation. Make sure you know the complete story so you can make informed, intelligent decisions when you and your spouse divide up your assets. Create a balance sheet of all the assets, investments, and liabilities, and also create a summary of income and expenses. Also, run a credit report so you know all the loans that have been taken out in your name. You can get one for free on Annualcreditreport.com
Know your options with retirement accounts. You could be eligible for part of the money in your spouse's 401(k), pension and Social Security benefits. When dividing these accounts between you and your ex-spouse, remember that money in a Roth account is different than a traditional IRA or 401(k) -it has already been taxed and it grows tax-free.
FAQS
We're happy to answer any questions you have about our firm and our processes. Here are answers to some of the questions we receive most frequently.

READ Now
Be smart about the house. Despite its sentimental value, taking the house as a part of a divorce may not be the best financial move. A better option may be to sell the house and divide up the proceeds. Then you could use the money to take other important steps such as paying off debts and re-building your emergency fund.
The death of a spouse
Dealing with finances after the death of a spouse is hard to do while you are grieving. Every decision may feel overwhelming. Put off making any major decisions that are not urgent. After taking some time catch your breath, here are some items to address:
Make sure bills are being paid
In a time of grief, it's easy to let tasks like bill paying slip through the cracks. Doing so with important bills like a mortgage, taxes, or insurance premiums can be costly. Make sure you know what bills are due and their due dates. If you feel overwhelmed, ask someone you trust to help you with it.
Meet with your advisors
When everything seems overwhelming, it really helps to work with advisors you trust. A good financial advisor will provide guidance to help you figure out the steps you need to take. Together you can collaborate on the most important areas like filing insurance claims, addressing your income taxes, updating health and pension benefits and health insurance.
Re-marriage
Re-marrying can start a wonderful new chapter in life. A second marriage can make for complicated finances, so talk with a financial advisor about the best next steps to take.
GUIDES
The Essential Guide to Retirement Planning
A 4-part series that answers key questions about building your plan, positioning your investments, and more.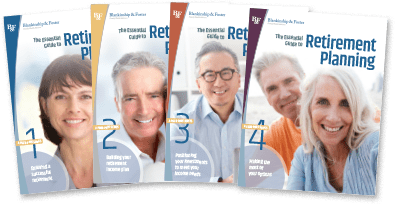 FREE Download
Plan in advance
Make sure you and your spouse-to-be have some serious talks about finances well before the big day. There may be some big things to agree on, such as how to handle bills, accounts and taxes, and how to support parents or children from a previous marriage.
Consult with your financial and legal advisors
Decisions made during a re-marriage can affect your family for many years. An example is if you have substantial wealth that you want passed down to children from a prior marriage. Your financial and legal advisors can help you consider important issues to consider.
Keep your family in the loop
It also makes sense to discuss things with family members such as your children. You can ease their concern that you'll be in a good financial situation by letting them know of your proactive marital planning.
One constant you can count on
During major life transitions, it is important to know where you stand and where you want to go. With sound financial advice, you can be assured you are making the right decisions while not missing important actions. As financial advisors for women in transition, we have helped many people get through life transitions successfully. Contact us to learn how we can help you.
---
Disclosure: The opinions expressed within this blog post are as of the date of publication and are provided for informational purposes only. Content will not be updated after publication and should not be considered current after the publication date. All opinions are subject to change without notice, and due to changes in the market or economic conditions may not necessarily come to pass. Nothing contained herein should be construed as a comprehensive statement of the matters discussed, considered investment, financial, legal, or tax advice, or a recommendation to buy or sell any securities, and no investment decision should be made based solely on any information provided herein. Links to third party content are included for convenience only, we do not endorse, sponsor, or recommend any of the third parties or their websites and do not guarantee the adequacy of information contained within their websites.