A high-net-worth individual, or HNWI, is generally someone with a minimum of $1 million in liquid financial assets. Liquid financial assets can be quickly converted into cash. They typically include checking and savings accounts as well as liquid investments such as stocks, bonds and mutual funds. Assets such as property and real estate investments, primary residences, fine art and collectibles are not included since they are considered illiquid.
Financial professionals and the SEC also define a HNWI as an "accredited investor," meaning an investor with an annual income of at least $200,000 for each of the two previous years, or a HNW over $1M, excluding the value of their primary residence. Under federal securities laws only accredited investors can participate in certain securities offerings.
Most people dream of having financial assets worth a million dollars. But there are multiple levels of HNWIs, and having one million is just the first rung of the ladder. Let's look at the higher categories of High Net Worth.
GUIDES
The Essential Guide to Retirement Planning
A 4-part series that answers key questions about building your plan, positioning your investments, and more.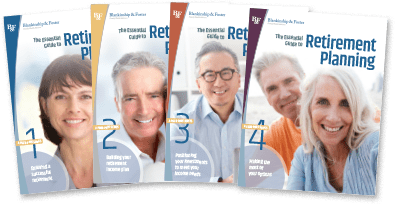 FREE Download
From HNWI to UHNWI
A very-high-net-worth individual has a net worth of at least $5 million in liquid assets, and those classified as ultra-high-net-worth have more than $30 million. However, these assets must be investable, which is an important distinction between the different levels of net investable assets. For example, many startup founders and business owners may have a net worth of more than $30 million on paper, but those funds may not be available for investing.
Nonetheless, VHNWIs and UHNWIs are the wealthiest people in the world. These individuals include billionaires such as Bernard Arnault, Jeff Bezos, Gautam Adani and Bill Gates. And it's no surprise that the United States has the most high-net-worth individuals in the world as of 2021, followed by China, Japan and Germany.
Climbing the HNW ladder?
Even if you are a HNWI, preserving and growing your wealth takes time and skill. Whether your net worth is $1 million, $5 million or $30 million, Blankinship and Foster will help you create a plan based on your goals objectives, then design an investment management plan and a portfolio to support it. For over 30 years, our dedicated team has a proven process of wealth management solutions for our clients.
ARTICLE
Invest $100K the Right Way
At some point, you may find yourself with $100,000 in the bank and questions on how to invest it.

READ Now
---
Disclosure: The opinions expressed within this blog post are as of the date of publication and are provided for informational purposes only. Content will not be updated after publication and should not be considered current after the publication date. All opinions are subject to change without notice, and due to changes in the market or economic conditions may not necessarily come to pass. Nothing contained herein should be construed as a comprehensive statement of the matters discussed, considered investment, financial, legal, or tax advice, or a recommendation to buy or sell any securities, and no investment decision should be made based solely on any information provided herein. Links to third party content are included for convenience only, we do not endorse, sponsor, or recommend any of the third parties or their websites and do not guarantee the adequacy of information contained within their websites.