Becoming a doctor is a big commitment due to the time, effort, and cost that go into obtaining the necessary education. Those who choose to pursue a degree in medicine do so for personal reasons as well as professional. For some it's a calling rather than a job. Doctors tend to identify strongly with their profession, which is part of the reason many physicians delay retirement past the age of the average American.
Finances are a key factor in the timing of one's retirement, and this has contributed to an increase in the average retirement age. A 2019 GoBankingRates study, including 2,000 respondents, revealed concerning statistics among people 55 and older.
Approximately 46% – nearly half of all respondents, reported that they expect to retire with less than $10,000 in retirement savings, and another 19% said they had no money at all set aside for retirement. Together, they make up approximately 64% of the population who will retire without a safety net.
GUIDES
The Essential Guide to Retirement Planning
A 4-part series that answers key questions about building your plan, positioning your investments, and more.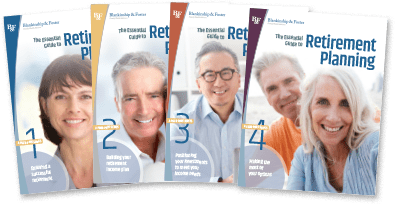 FREE Download
Conversely, lack of financial planning is not the main reason doctors choose to delay retirement. There are factors such as the rewarding relationships they've cultivated over the years with their patients, the ability to see and interact with people every day, and even attachment to and/or responsibility for long-time staff members in their offices.
Late start, late finish
The cost and time involved in learning medicine is one reason why it's hard for doctors to retire on time. Getting a late start on earning potential may also come into the equation. Physician's careers don't start as soon as they earn a bachelor's degree. They must spend another four years in medical school, followed by three or more years of residency.
The result is that a doctor's income potential stays low until around age 30 when all of the training is behind them. Add to that that nine out of ten physicians owe an average of $242,000 in student loans, and you can understand why they get a late start on setting aside money for retirement.
Ready to make up for lost time? Collaborating with an advisor who understands the particulars of financial planning for physicians can ensure a path to your financial future despite a late start.
ACCREDITATIONS & AWARDS
We're proud to have been honored by some of the organizations in our industry.

MORE Details
We understand your career
Notwithstanding the financial setbacks early on, in the long term the average physician's lifetime earning potential is excellent. When doctors contemplate at what age to retire, their decision depends on a number of factors in addition to finances. Under ideal circumstances, savings will play a minor role.
Financial planning for physicians is based on the individual's specific circumstances as well as their goals. The financial advisors at Blankinship and Foster have both the knowledge and experience partnering with doctors to tailor a roadmap to success, which meets their clients goals and dreams. With proper planning, physicians from San Diego, California to New York, New York can have the choice of when to retire.