" . . . We're not in Kansas anymore"
— Dorothy, The Wizard of Oz
We are in the midst of the greatest technology revolution in history, and there's no telling where it will all lead. Advances in information technology will continue to make us more productive, help us solve challenging problems and provide previously unimaginable benefits. While hugely enabling, these new technologies are also addicting—leaving us with a huge blind spot that puts us at risk of losing our property, our privacy, and our security.
Privacy and data collection
Since the Supreme Court enshrined "the right to privacy" in 1965, numerous consumer privacy laws have been passed. However, there is still no unified set of rules in the U.S. for all types of data. In a 2019 survey by Pew Research Center, most Americans showed they were resigned to having data collected about them by companies or the government.
Meanwhile, there have been countless breaches of this collected data, most over the past decade. These "Mega Breaches" have exposed millions American's personal information to criminals who employ sophisticated tools and scams to commit fraud.
GUIDES
The Essential Guide to Retirement Planning
A 4-part series that answers key questions about building your plan, positioning your investments, and more.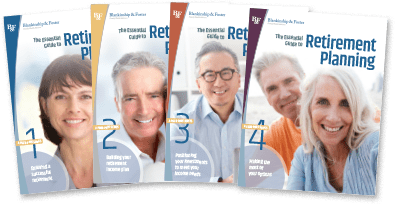 FREE Download
How criminals exploit the online world
Criminals use personal information to gain access to their victim's systems and accounts, where they can gain even more information or trick their victims into supplying more information. Their ultimate goal is to steal money from their victims or commit fraud in the name of their victims.
Financial institutions have reported a significant increase in cases where a client's email account was hacked then the hacker sent suspicious requests for cash transfers. Hackers who do this will often monitor a hacked account for some time to learn more about their target.
What you can do to protect your private information
Protect computers, phones and devices. Use strong, up-to-date security software. Also be sure that any operating system updates are installed.
Use strong passwords. If a criminal can figure out your password, especially if you use the same password everywhere, they can gain access to your financial accounts and wreak havoc. Strong passwords have many characters, use upper- and lower-case letters, numbers and symbols, and are not based on your personal information. Password managers and two-factor authentication (2FA) are also both best practices.
Be cautious with social media. Any personal information on your social media accounts can be used by criminals. Review the information you've shared and ask yourself if maybe you've put too much information online. For example, would "San Francisco Bay Area" be better than "Sausalito, CA" for hometown?
Learn to spot spam and scams. Phishing attempts in an email, IM, on social networking sites, or websites can look very legitimate. Never click on a link that has been sent to you. Rather, find the website yourself using a search engine. This way you will know you landed on the legitimate site and not some mocked-up fake site.
Monitor your credit. Review your credit report periodically to see if there are new credit cards, loans or other transactions on your account that you are not aware of. If there are, take immediate steps to have these investigated. Freezing your credit is a pre-emptive measure to make sure no one can commit credit fraud in your name.
FAQS
We're happy to answer any questions you have about our firm and our processes. Here are answers to some of the questions we receive most frequently.

READ Now
At Blankinship & Foster, protecting our clients' hard-earned assets and privacy is of the highest priority. For more information and resources on data protection, read our guide Protecting Your Identity Data and Assets. To learn more about how we protect our client's personal information, read our Privacy Statement.
---
Disclosure: The opinions expressed within this blog post are as of the date of publication and are provided for informational purposes only. Content will not be updated after publication and should not be considered current after the publication date. All opinions are subject to change without notice, and due to changes in the market or economic conditions may not necessarily come to pass. Nothing contained herein should be construed as a comprehensive statement of the matters discussed, considered investment, financial, legal, or tax advice, or a recommendation to buy or sell any securities, and no investment decision should be made based solely on any information provided herein. Links to third party content are included for convenience only, we do not endorse, sponsor, or recommend any of the third parties or their websites and do not guarantee the adequacy of information contained within their websites.