Wealth management and financial planning are pathways through which to plan for your family's financial future, with a distinction between them. Financial planning involves looking at a person's entire financial picture and advising them on how to achieve their short- and long-term financial goals for the future. Wealth management includes financial planning, but also brings together tax planning, investment management, wealth protection, and estate planning.
Whichever category most aptly describes your financial situation, one of the most important goals to consider is creating an education fund for your heirs. Providing the means through which they will have a college education gives them a leg up when entering the workforce. A candidate who can list an undergrad degree or a masters on their resume has a definite advantage over one who has not completed college.
With the cost of a four year degree growing every year, kids without financial help from their parents generally end up saddled with a hefty amount of debt upon graduation. And if they are interested in furthering their education by attending a PhD program, their potential debt load increases substantially.
Will tuition fees increase or decrease?
Rising tuition rates and living expenses have increased steadily, and the amount of funding available through government programs, such as Federal Pell Grants and loans, have not matched this growth. As of the 2019-2020 award year, the amount per year of a Federal Pell Grant topped out at $6,195.00, while the median cost for an in-state student to attend a public four-year institution was $10,440.
GUIDES
The Essential Guide to Retirement Planning
A 4-part series that answers key questions about building your plan, positioning your investments, and more.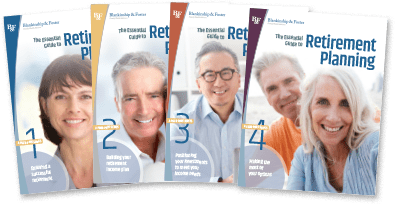 FREE Download
Out-of-state residents pay significantly more as do those that attend a private college, with an average cost of $36,880 for the 2019-2020 school year. Over the same time period, the generous Stafford loan, available through the Federal Loan Program, topped out at $20,500 annually, which is insufficient to cover the cost for out-of-state students or those attending a private college.
While there are various social movements afoot to address the affordability of college, nothing official has passed through Congress yet. The safest route is to approach financial planning for higher education as though nothing will have changed when your kids get to that stage of life.
Speaking with an advisor who understands
At Blankinship and Foster, a San Diego wealth management firm, we're committed to helping our clients reach their current and future financial goals. We accomplish this through adhering to our investment philosophy, which includes creating a comprehensive financial plan, and making investment decisions that achieve its objectives, like planning for education expenses.
ABOUT US
Our Team
With Blankinship & Foster, you have a dedicated team of financial advisors, service and support professionals. We will get to know you personally, and partner with you to achieve your financial goals.

MEET The Team