If you are enrolled in Medicare, you can make changes to your insurance coverage once a year, during the Open Enrollment period. This period starts on October 15th and runs through December 7th each year. It applies whether you have Original Medicare with a Medicare Supplement ("Medigap") and a prescription drug policy or Medicare Advantage.
Since you can only make changes during this period, it's a perfect time to review your policies and decide if you want to possibly make a change.
Medicare basics
Here's a quick review of the basic types of Medicare and what they cover:
Original Medicare includes:

Medicare Part A which is free and covers most hospital care.
Medicare Part B which carries a monthly premium and covers most outpatient care.

Medicare Part C, also called Medicare Advantage, provides similar coverage to Original Medicare, but does it with private insurance rather than the government provided coverage.
Medicare Part D is separate prescription drug coverage obtained from an insurance company for those using Original Medicare.
Medicare Supplement policies, or "Medigap" coverage, fill in some of the gaps in coverage or copays of Medicare Part B, and is often purchased by those on Original Medicare.
Questions to ask for your Open Enrollment review
During the Open Enrollment period, you have the choice to either sign up for brand new coverage or switch between your current coverage and a new provider. So, what are some of the questions you should ask yourself?
ARTICLE
Invest $100K the Right Way
At some point, you may find yourself with $100,000 in the bank and questions on how to invest it.

READ Now
Do you travel split time between two homes?
If you move around a lot within the United States, then Medicare Advantage may not work for you. The reason is that it is limited to specific provider networks that are commonly geographically restricted. If, for example, you spend time in Arizona and California, your provider networks may not cover both regions.
Is there a medical provider you prefer?
If so, review your plan every year. Medicare Advantage plans occasionally change their provider networks, which may remove a preferred provider from your insurance coverage. By comparison, any provider who accepts Medicare is available to those on original Medicare.
Do you keep using out-of-network providers?
Medicare Advantage plans are often structured as HMOs or PPOs, so if you keep ending up with out-of-network specialists, you may want to consider switching to Original Medicare or changing your Medicare Advantage plan.
ACCREDITATIONS & AWARDS
We're proud to have been honored by some of the organizations in our industry.

MORE Details
Will your prescriptions be covered next year?
This is important for both Medicare Advantage AND Medicare Part D participants. Insurance companies continually change the drugs they will cover, so you need to review your plan every year to make sure that it still covers a prescription medication that you use. If the plan formulary (the list of covered medicines) changes, you may need to change your plan to keep taking that medication.
Have you developed a serious illness?
This is the most significant challenge, especially for Medicare Advantage patients. When you originally enrolled in Medicare, either Advantage or Original, it was a guaranteed issue – you could not be turned down for any reason. Unfortunately, if your diagnosis occurs later, participants often find their costs soar under Medicare Advantage plans due to copayments and out-of-pocket expenses. But switching back to Original Medicare – and the all-important Medigap policy – may not be a choice later because the Medigap plans are only guaranteed in that initial enrollment. Underwriting may limit your ability to switch later in life.
Why You should do an open Enrollment Time Review
In short, things change. That's why you shouldn't just assume that you'll continue with the same coverage. Check to be sure that your preferred providers and medications will still be available next year. Think about your travel plans and whether your existing coverage will be available where you are going to be. How much have you spent this year on premiums and other out-of-pocket expenses, and will next year be similar?
GUIDES
The Essential Guide to Retirement Planning
A 4-part series that answers key questions about building your plan, positioning your investments, and more.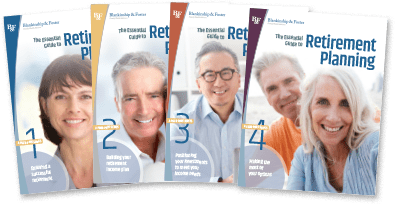 FREE Download
These are just a few of the questions you should be considering as you select your Medicare (or really any health insurance) plan for next year.
At Blankinship & Foster, we not only help you simplify and organize your finances, but we also help you evaluate all the things that could have an impact on your finances, like health insurance and Medicare. Contact us to learn more about how our Proven Process can make a difference in your finances.