Most of us hope to spend all of our retirement in our own home. As we age, however, mother nature conspires to bring health challenges and physical limitations to us. When this happens, alternatives to living at home may become more attractive or necessary.
There is a growing pantheon of options available to seniors who decide that their long-time family home may no longer be appropriate. Most revolve around how much care and assistance are needed. However, those needs can change rather quickly, and so many retirees want access to different levels of care and assistance "under one roof."
What is a CCRC?
A Continuing Care Retirement Community (CCRC), also known as a life plan community, is designed to provide a range of services to seniors, from independent living to assisted living, nursing care and even memory care. CCRCs offer independent living with access to onsite higher-level care should medical needs progress. This continuum of care ensures residents have the stability of remaining in the place they call home. CCRCs are becoming increasingly popular as seniors look for ways to maintain their independence and quality of life as they age.
FAQS
We're happy to answer any questions you have about our firm and our processes. Here are answers to some of the questions we receive most frequently.

READ Now
Here are some of the benefits and challenges of CCRCs, as well as some things to think about as you decide if a CCRC is the right option for you.
The Pros of CCRCs
Security and safety. CCRCs are designed to provide a safe and secure environment. Many communities have gated entrances, security personnel, and emergency response systems in place, which can give seniors and their families peace of mind.
Access to healthcare. Most CCRCs have on-site healthcare facilities that provide medical care, therapy, and rehabilitation services. This can be particularly beneficial for those with chronic conditions or who require ongoing medical care. It can also be attractive for couples where one needs a higher level of support than the other.
Social life. Staying active and engaged is often cited as one of the most important factors in successful and healthy retirement. Living in a CCRC can be an excellent way for seniors to socialize and stay engaged with others. Many communities offer a range of activities and events, such as exercise classes, game nights, and cultural outings.
Maintenance-free living. CCRCs often offer maintenance-free living, which means that you don't have to worry about maintaining your home or yard. This can be a significant benefit for those who no longer have the energy or physical ability to keep up with the demands of homeownership.
Continuum of care. One of the most significant advantages of CCRCs is that they provide a continuum of care. This means that as people age and their needs change, they can move from independent living to assisted living and then to skilled nursing care, all within the same community. This can be particularly important for couples who may have different care needs.
GUIDES
The Essential Guide to Retirement Planning
A 4-part series that answers key questions about building your plan, positioning your investments, and more.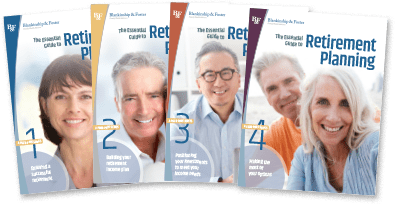 FREE Download
The Cons of CCRCs
Cost. The cost of living in a CCRC can be a significant barrier. CCRCs typically require a large upfront fee, as well as ongoing monthly fees. This can be a substantial financial burden, particularly for those on a fixed income.
Lack of independence. Living in a CCRC can sometimes feel like living in a bubble. Seniors may feel like they are living in a controlled environment, with restrictions on their ability to come and go as they please. This can be particularly challenging for seniors who are used to living independently. And irksome neighbors may be closer and harder to avoid.
Limited options. The flip side to having amenities and services can be that they may be somewhat limited. For example, the food options may be limited, and there may be a lack of cultural events or activities. This will depend heavily on the strength and resources of the CCRC that you choose.
Long waitlists. Some CCRCs have long waitlists, which can be frustrating for those who are eager to move into a community. This can also be challenging for families who are trying to plan for their loved one's future.
Lack of customization. CCRCs often have a one-size-fits-all approach, which means that you may not be able to customize your living spaces to suit your needs and preferences. In some cases, you might be renting an apartment rather than buying a condo. This can be particularly challenging for people who have specific health or mobility needs.
Deciding if a CCRC is right for you
If you decide to consider a CCRC, look carefully at the level of care that may be available, the amenities and activities they offer, and the quality of the environment and the food served. Ultimately, the decision to move into a CCRC is a personal one that should be based on individual needs, preferences, and financial circumstances.
---
Disclosure: The opinions expressed within this blog post are as of the date of publication and are provided for informational purposes only. Content will not be updated after publication and should not be considered current after the publication date. All opinions are subject to change without notice, and due to changes in the market or economic conditions may not necessarily come to pass. Nothing contained herein should be construed as a comprehensive statement of the matters discussed, considered investment, financial, legal, or tax advice, or a recommendation to buy or sell any securities, and no investment decision should be made based solely on any information provided herein. Links to third party content are included for convenience only, we do not endorse, sponsor, or recommend any of the third parties or their websites and do not guarantee the adequacy of information contained within their websites.