American businessman, P.T. Barnum once said, "There is scarcely anything that drags a person down like debt." Debt can be stressful and create tension in families, businesses, and governments. The relief from debt, however, can feel like true freedom and independence. Once you've learned to take control of your finances instead of your finances controlling you, the future will feel much brighter (and more affordable)!
Whether you have accumulated debt by purchasing a home, buying a car or an education, or you've just been trying to keep up with medical bills or credit card payments, debt can get out of control before you realize what's happening. A minimum payment might not seem like much, but eight or nine minimum payments will quickly overwhelm your financial capability. Whether your debt stems from a job loss, unexpected expenses, or overspending, it is possible to reduce and eventually eliminate it.
Successfully tackling your debt won't happen overnight. It takes time, effort, and willpower, but combining strategies and staying consistent can help you successfully dig your way out. You're doing the right thing by reading this article! Making a debt reduction plan can help increase your chances of success, particularly if you set a timeline to reach your goal. Let's talk about strategies.
Stop accumulating debt
First, it's important to reduce the temptation to create new debt. Ignore the credit card offers and installment plans that are so easy to use these days, especially with online purchases. Keep the big picture in mind and stay focused on your goal of becoming debt free.
FAQS
We're happy to answer any questions you have about our firm and our processes. Here are answers to some of the questions we receive most frequently.

READ Now
Next, design a budget that includes debt paydown and reasonable spending on necessities. Start by taking a close look at your monthly spending. Consider using a budget tracking app (many are free!) to get that spending more in line with your income. You can track and categorize every dollar you spend, and you'll start to see patterns. By aligning your spending with your earnings, you'll start to notice extra funds that can be applied toward your debt.
Finally, avoid using credit cards or loans to make ends meet. Eventually, these little amounts will catch up to you and become more than your bank account can handle.
Build an emergency fund
It may seem counterintuitive to start saving more when it feels like you should use any extra funds to pay off debt, but an emergency fund is a good example of the "ounce of prevention is worth a pound of cure" philosophy. An emergency fund can keep you from creating new debt. If you have a few extra dollars safely stored away, you can use them instead of your credit card for unexpected expenses. A good rule of thumb is to start with three to six months of living expenses, then increase to 12 months' worth. Start by building up at least $1,000, or whatever you can afford to save. Set a goal, though, and challenge yourself to stick with it. Future you will thank you!
Two Debt-reduction Strategies: Avalanche vs Snowball
There are two popular strategies for debt reduction, and they both have to do with snow. (Is it because debt is cold and cruel, and builds up silently like snowflakes? Hmmm . . .)
The Debt Snowball method
The Debt Snowball method allows you to make noticeable progress by paying as much as possible each month toward your smallest balance. Each month, you make the minimum payment on your higher balances so that your accounts remain in good standing but put the most effort into paying the smallest one. As each small debt is paid off, you then "roll" the amount you would have paid toward it to paying the higher balances, starting always with the smallest. This method will give you a sense of momentum, like a snowball rolling along and getting bigger as it goes. 
The Debt Avalanche method
The Debt Avalanche method is the opposite strategy (but also results in paid-off debt!). You'll start by paying off your highest-interest debt first, while making minimum payments on the others. Once the highest-interest debt is paid off, you move down the line to the next highest interest rate account. This is great for saving money overall, as it gets those high interest payments out of your way as quickly as possible.
GUIDES
The Essential Guide to Retirement Planning
A 4-part series that answers key questions about building your plan, positioning your investments, and more.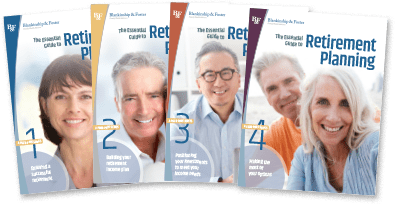 FREE Download
While the debt avalanche strategy can help you save money on interest, you may prefer the feeling of accomplishment you get from the debt snowball method, when you pay off smaller debts first. Whichever way works for you, the important thing is the result: becoming debt free.
Getting Out of the Cold
Interest rates can be negotiated
High interest rates keep you in debt longer because so much of your payment goes toward the monthly interest charge and not toward your principal (the original amount you spent). Interest stretches out your payments much longer and also adds dollars to them. Many people aren't aware, though, that interest rates can often be negotiated. You can ask your credit card company to lower your rate or refinance a mortgage. You likely need to have good credit to start with or have a good payment history in order to successfully negotiate your interest rates.
Increase your income
Of course, another way to pay off your debt more quickly is to pay more toward it each month. This could be more feasible if you were able to increase your income. The more money you put toward your debt, the faster you can pay it off. Find ways to increase your income such as starting a side hustle, selling slightly used goods online, working more hours, or negotiating a raise. The important thing to remember is to dedicate the increase in your income toward your debt rather than to new spending.
ConclusionThe best ways to reduce your debt are the ones that work for your unique financial situation and your lifestyle. Follow general guidelines to build a solid financial foundation: create a budget and stick with it, pay your bills on time, track your spending, pay down your debts, and earn extra income. As you pay down your debts, track your progress to help you stay focused. While some of these steps may seem small, minimizing new debt and building an emergency fund, they're important for establishing healthy financial habits that will have you on your way to freedom. At Blankinship & Foster, we partner with you to establish healthy financial habits so you can achieve your goals and financial independence.