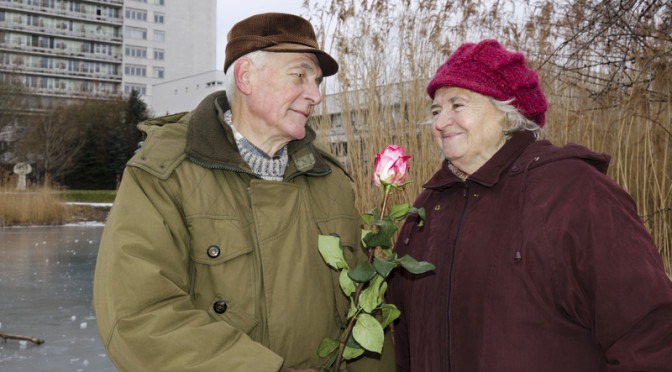 With Valentine's Day just a couple days away, it seems timely to talk of l'amour—or more specifically, about marriage and love in retirement.
Is Retirement Hazardous to Marriage and Love?
The divorce rate among baby boomers has nearly doubled in recent years, according to the National Center for Family & Marriage Research at Bowling Green State University. So many couples over the age of 50 have divorced that it's prompted a new term "Grey Divorce." Why is that? One answer could be that as Boomer couples enter retirement, they are unprepared for the sudden increase in time spent together.
On the other hand, there are a lot of couples for whom retirement has helped their love and marriages grow stronger. How have they done it?
Here are a few tips from happily married retirees about marriage and love in retirement:
Adjust Expectations
Husbands and wives might have very different notions about life in retirement. For example, a wife might expect her retired husband to help more with household chores. Or, a husband may expect to be the primary focus of his wife's attention and be disappointed to find that she has plenty else on which to focus. Feelings of disappointment because of misaligned expectations can lead to resentment if either partner feels neglected or is not getting fair consideration of his or her own interests.
Stay Busy
Why do some couples adjust to retirement better than others? One reason may be that happier couples find it easier to keep busy outside of the workplace. Busyness can come in many forms: community work, part-time employment, or an exercise routine. But it can also come from the daily work of living and maintaining a household. And certainly, one's busyness should not just be for the sake of keeping busy but should be rewarding. Reward can be found in just the basics. It can be a joy to provide basic needs such as good food, a clean and welcoming home, or caring for a small child. Retirees who embrace this seem be better off in the long run. By contrast, retirees may suffer from having too little to do which can lead to depression, illness, and marital discord.
Respect Your Spouse's Space
I have heard that a well-meaning spouse can be surprised by the resistance they encounter when trying to help manage the household. If your spouse has been handling the household chores for a long time, chances are he or she is likely to take too much participation (and especially advice on how to do things better) as an intrusion into his or her territory. On the other hand, a spouse may resent a lack of interest in helping with household duties. The middle ground, I'm told, is to work things out over time. Compromise, communicate, and above all, give each other space. Pursuing different hobbies or interests in separate areas of the house can make living together less stressful and more enjoyable.
Stay Connected
Psychologists say that being socially connected is essential for mental health. Statistics have shown that having active social lives is a hallmark of a happy retirement. Women, I'm told, are often more socially integrated than men, having more and stronger emotional ties to friends and family. Men, in contrast, may have fewer close relationships, and without the connections that work provided, may depend on their wives to keep them socially involved. This may lead to resentment for a wife that has to surrender more of her personal time than she would like. For retirees that suffer from a lack of social connection, the prescription seems to be working on building new ones and not depending on your spouse for them.
Plan and Practice Retirement
The most resounding advice I've heard from happily married retirees is that it takes practice and that it takes planning. I agree wholeheartedly—especially with the planning part. Having peace of mind about your financial situation is the result of good planning, and that is what we at Blankinship & Foster help our clients do. Clearly, a great retirement is about more than having your financial situation in order. Preparing not just for your income in retirement, but for what marriage and love in retirement will be like, should begin well before you cash that last paycheck. To learn more about how we can help you enjoy the benefits of healthy finances in retirement, please contact us.