Do you have any summer vacations planned? Did you know that you can help pay for future vacations by being strategic about how you spend on this vacation? The strategy involves using the right travel reward credit cards to pay for your expenses and then redeeming the points or miles for future travel. Let me share a few tips for picking the right one.
Know Your Travel Style
The best type of card for you depends on how you travel. Do you like road trips where you stay at Airbnbs, luxury vacations at high-end resorts or a little bit of both?
If you stay at hotels and fly to most destinations, it's good to choose a card that lets you book travel directly through the credit cards' travel portals or to transfer points to a network of frequent travel programs. You can often earn high rewards with this type of credit card, however there is a bit of a learning curve on how best to redeem the points since you have a variety of options.
For those that prefer vacation rentals, a card that lets you use your credits against a wide variety of purchases may be best. Cards such as Barclaycard Arrival Plus World Elite Mastercard or Capital One Venture Visa allow cardholders to earn 2% back on every purchase, which can then be redeemed as credits against other purchases. It's simple and easy to use.
FAQS
We're happy to answer any questions you have about our firm and our processes. Here are answers to some of the questions we receive most frequently.

READ Now
Stay or Fly Within the Same Network
Reward programs are most beneficial when you've accumulated a lot of points- enough to reach a certain status level or pay for a hotel night or a flight. It is far easier to earn points if you stay within the same network of hotels or airlines. For hotels, there are several major hotel chains to choose from including the Marriott, Hilton, IHG and Hyatt. For airlines, there are three major alliances including OneWorld, Star Alliance and SkyTeam.
It also pays to stay within a preferred credit card's transfer travel partners. For example, if you own the Chase Sapphire Reserve card, you can stay within their network of 9 airline partners and 3 hotel programs. Many times, you can "double dip" by earning credit card rewards for purchasing the airline ticket and miles for flying on the airline.
Add a Second Credit Card to the Mix
Employing a multi-card strategy can maximize the rewards you earn. For example, if you already have the Chase Sapphire Reserve credit card, you can add the Chase Freedom Unlimited Credit Card to your wallet. This no-fee credit card will allow you to earn 1.5% on all purchases. The points earned using the Chase Freedom Unlimited card can be pooled with the points you earned from Chase Sapphire Reserve. The larger the pool of points, the more useful they are.
GUIDES
The Essential Guide to Retirement Planning
A 4-part series that answers key questions about building your plan, positioning your investments, and more.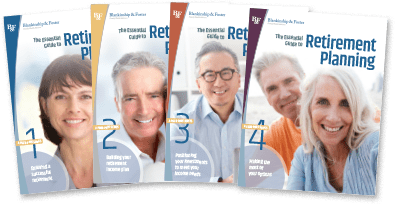 FREE Download
A Real World Example
Let's see how using the right credit cards and reward programs to pay for a two-week trip to Maui can really add up to substantial savings for your next trip: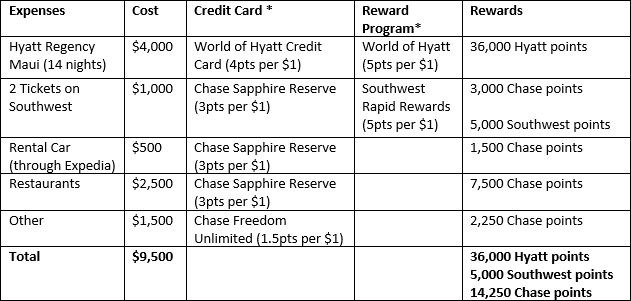 **Please note: point rewards shown are subject to change without notice. This example is for illustration purpose only.
You earned 36,000 Hyatt points, 5,000 Southwest points and 14,250 Chase Ultimate Rewards points from this one trip to Maui. Since World of Hyatt is a transfer travel partner of Chase Ultimate Rewards, you can transfer the 14,250 Chase points to your World of Hyatt account to increase your total balance to 50,250 Hyatt points. That's enough points for you to redeem two free nights at Hyatt Regency Maui for your next vacation. You've also earned $60-80 worth of Southwest Airlines credit towards your next flight.
Mind the Fees
Some travel reward cards charge high fees, but that does not necessarily mean it's a bad deal. For example, the Chase Sapphire Reserve credit card has a hefty $450 annual fee, but it offers 3 points per $1 spent on travel and restaurant dining, a sizeable sign-up bonus, a $300 annual travel credit and a number of other benefits. A card like this is only lucrative for cardholders that spend thousands on travel and restaurants per year. If you are an occasional traveler, you should choose a card with no or lower annual fees.
With a little extra planning, you can be rewarded richly for your travels. We at Blankinship & Foster, are always looking for ways to help make our clients' lives better. Contact us today to learn more about what we can do for you.