What do all 29 million small business owners in America have in common? They are dedicated to keeping their business alive and well. And they are willing to make personal sacrifices and risk their life savings to keep it that way.
If you are a small business owner, you know how much hustle and determination it takes to succeed. When it comes to selling your first business, however, you may have little experience. There are many mistakes to avoid, legal and tax considerations, and risks to navigate. Many business owners are daunted by these and wait to sell or sell too soon.
The Most important Considerations
According to M&A experts, the most important considerations for selling your business are:
Having an exit strategy
Knowing what drives the valuation of your business, and
Knowing what you really need and want from the sale.
Each of these should be considered years in advance of selling the business. This gives you time to work on the drivers of value. It also allows you to examine the future sale from both the business and personal angles. This can give you clarity to know what the ideal outcome is and what the deal-breakers are.
GUIDES
The Essential Guide to Retirement Planning
A 4-part series that answers key questions about building your plan, positioning your investments, and more.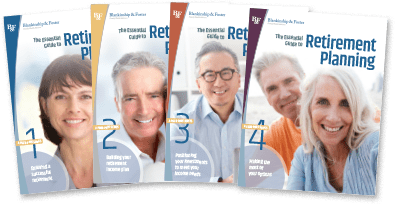 FREE Download
If you hope to have family or employees take over, you can take the time necessary to develop your successors. You can also keep an eye out for potential candidates among your service providers and competitors. Things can change and plans can fall through, so having some alternatives is always wise.
Who to trust
It would be cliché to say, "It takes a village" to run (and sell) a business. However, having the right specialists on your team can make a world of difference. For instance, experts agree that having clean financials is essential to a successful sale. A bookkeeper or CFO can help ensure the financials stay tidy, the receivables are received, and the payables are paid. Staying on the right side of tax authorities and regulators is also critical. You may decide to outsource some of these functions, or have an employee manage them.
The real drivers of a business's value are its prospects for growth. And the responsibility to drive growth falls cleanly on the owner's shoulders. That often takes much of a business owner's time and energy. However, it may make sense to employ business development or marketing professionals to help.
Other key professionals to add to your team include: a valuation specialist to determine the pricing, a business attorney, and a business broker (if it will be an external sale).
FAQS
We're happy to answer any questions you have about our firm and our processes. Here are answers to some of the questions we receive most frequently.

READ Now
Reinvesting Your Wealth
For many business owners, the business represents most of their personal wealth investment. Selling your first business means turning it into liquid assets that you can use to live on in retirement. This calls for investment strategies that provide dependable income and long-term growth.
At Blankinship & Foster, we help navigate life changes such as the sale of your first business. As wealth managers in Southern California, we are far more than investment managers. We help bring all the pieces of the business and your personal finances together into a cohesive action plan. To learn more about how we can help you, please contact us.