During a long drive through the beautiful Sierra Nevada mountains it occurred to me that while most of the trip may be long stretches on the same road, missing a planned exit for a different direction can derail your whole trip.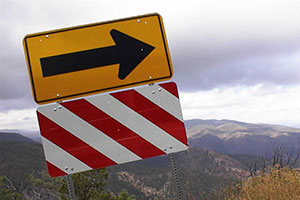 Planning your finances for retirement can be like that. In your working and saving years, much of your financial planning can be on cruise control for long stretches. Sign up for automatic contributions and keep saving at a high rate throughout your career, and the bulk of the job is done. There are those critical times, though, where a change in direction must be done at the right time. Decisions must be made, and attention must be given, to a new course. And unlike with a road trip, it's not so easy to re-route the navigation or re-trace your steps. Some retirement planning decisions and changes, if not made at the right time, can affect your retirement security for years to come.
Here are some critical times important for your retirement planning decisions:
Approaching retirement
As you near retirement, you may be in the uncomfortable spot of not having quite enough saved for the lifestyle you desire. A decisive turn to another direction can turn things around. In order to enable you to add more aggressively to your retirement savings, a reduction in expenses may be needed. Perhaps you sell or rent out a vacation home or forgo the luxury car and its accompanying loan payment. Or perhaps you opt for a career extension that will keep you adding to, not drawing from, retirement savings for a number of years.
Other turns on the approach to retirement may be more abrupt. It may be time to choose pension payout options, evaluate an executive plan buy-out or an opportunity to sell your business. These decisions typically have a very limited window of opportunity. Re-routing may not be an option.
During your sixties
A number of time-sensitive decisions arrive in your sixties. Choosing a start date for Social Security is a big one. Many retirees are forced to start receiving benefits as soon as they can so they can supplement their income. However, with a sound retirement income plan, you can time your start date (and your spouse's start date) so that you receive the income you need while assuring a larger income for the rest of your (and your spouse's) lives. Starting Medicare is another time-sensitive decision. Parts B and Part D both impose penalties for starting late. And, while you can make changes to your Medicare plans over time, your initial selection is often the most important one of all.
Decisions regarding your retirement income plan may continue well into your sixties. Some well-timed tax planning moves here can really add up to increased and more secure wealth throughout your retirement. Examples are as Roth IRA conversions, which move wealth to a truly tax-fee status, charitable strategies such as a charitable trust or Donor Advised Fund, or income annuities, which can be designed to start at later ages and continue no matter how long your (and your spouse's) lifetime.
During your seventies
If you own an IRA or a retirement plan account, your seventies ushers in the era of required distributions. Miss one of these, and you'll face a stiff penalty. Your charitable planning can dovetail nicely with this turn, now that congress made the Qualified Charitable IRA Distribution permanent. You can reduce taxable income while meeting the distribution requirements and benefitting your desired charities in the process. Age 70 may also be the time you start delayed social security benefits. The well-timed increase in income can accompany changes in your distribution from other assets, maximizing your long term sustainable income.
During your eighties and beyond
Your eighties should be a time to relax and enjoy the company of friends and family. For many it's also be a time of financial stress as medical and long-term care costs, dwindling assets, and a need to get help managing finances loom on the horizon. A well-timed income plan will alleviate anxiety over sustaining your income throughout your retirement. Planning for this age can also encompass charitable and legacy planning, which can have tax benefits that make it a strong contributor to your income plan.
Medical planning and long term care planning are big issues for people in their eighties and beyond. Decisions made sooner rather than later can assure you are in charge of how the process goes. Having well-timed plans for long term care needs, in home and facility care needs, and medical needs is important. Also, having a plan for how family members will assist you with your finances as you get older will make that transition much easier.

When the timing is just right
Making the right decisions at the right times, as well as having a well-timed income plan, will pay big dividends in retirement. It will assure you can sustain a comfortable life throughout retirement, and it will provide benefits beyond what numbers can encompass: it will reduce stress and give you peace of mind. At Blankinship & Foster, we specialize in helping retirees and those nearing retirement gain confidence, clarity and direction in their finances. Contact us to discuss how we can help ensure your retirement planning decisions are timed just right to meet your own individual retirement goals.