Have you been wondering about how to retire early without sacrificing your current lifestyle? Many people share the same aspiration, and with the proper strategy in place, it's not as out-of-reach as you may think. Planning to retire early involves the discipline to stick to your investment goals through thick and thin, regardless of what life throws at you. Most people agree that the payoff, financial independence, and the freedom to walk away from the workforce when you choose, is worth it.
The first step is to begin working with your financial advisors to calculate how much you'll need to have saved by the age you'd like to retire. They can help you determine what to expect in terms of projected investment returns as well as other sources of income such as social security and post-retirement work.
GUIDES
The Essential Guide to Retirement Planning
A 4-part series that answers key questions about building your plan, positioning your investments, and more.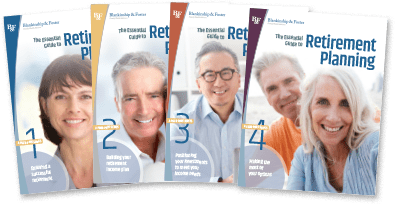 FREE Download
Plan on "working" after retirement
While saying goodbye to your career may sound alluring, you may find retirement boring, and miss the sense of purpose and schedule it provides. Taking on side projects can help fill these needs, with the added benefit of doing what you love rather than worrying about whether it will pay the bills. Many retirees start small businesses as a way to fill the void left by their career and generate additional income at the same time. Others volunteer for charities or do work for membership organizations as a way to stay occupied and connected.
Any extra income gained from working after retirement helps to lower the amount you withdraw from your retirement savings every month. It's critical that you review potential financial ventures you're considering with a professional advisor before jumping in with both feet. They can help you analyze the pros and cons to ensure your retirement goals are not at risk.
Fiduciary
We are fiduciaries, and it's not just a word. It's a binding commitment to put your interests first.

Our Fiduciary Commitment
Changing your strategy
Retirement planning is a dynamic process. As your life situation and goals change over time, so too should your investment strategy. Aspects such as the risk level and liquidity of your account are adjusted to reflect life stages. Whether you're still in the working years or you're currently retired, meeting with your financial advisor on a regular basis to review your portfolio's performance helps you stay on track.
At Blankinship and Foster, we encourage continued financial planning for retirees. We'll help you adjust your investment strategy to account for any changes in the market as well as your changing financial needs.