When it comes to planning for retirement, healthcare costs are one of the most overlooked factors. Yet for many retirees, health-related expenses can be one of the largest items in their budget. Even when covered by a retiree health plan or Medicare, the costs of treating medical issues and staying well can have a substantial impact on your spending needs.
It pays to know the facts. Here are 5 things you need to know about medical costs in retirement:
Medicare doesn't cover everything
Medicare parts A through D cover a wide range of care and treatments. Hospital stays and inpatient costs, skilled nursing care (to a point), doctors services, many tests and services, and most prescription drugs are covered by parts A- D.
Now for all the things Medicare Parts A through D do not cover. A general rule is that "eyes, ears, or teeth" are not covered. That includes most dental care, eye exams, eyeglasses, hearing care, hearing aids, dental care or dentures. "Alternative" treatments such as acupuncture and elective and cosmetic surgeries are also not covered. "Over the counter" medications and "on the shelf" pharmacy items are not covered either.
Long term care is not covered by Medicare
Long-term care is also not covered by Medicare. This means that if you need assisted living, nursing home care, or in-home care, don't count on Medicare to cover it. Long Term Care costs tend to occur later in life, but in some cases, they start in the 60's or 70's and can last for many years. For instance, the lifetime cost of early onset dementia care can approach $500,000 according to the Alzheimer's Association.
GUIDES
The Essential Guide to Retirement Planning
A 4-part series that answers key questions about building your plan, positioning your investments, and more.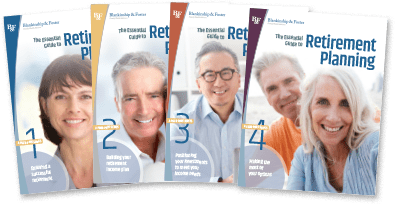 FREE Download
Medicare can be expensive
Even for the many things Medicare Parts A – D do cover, there can be substantial co-pays and deductibles. For example, Part B pays 80% of approved outpatient and doctor services. That means you are responsible for 20% of all doctor visits, surgeries, and high-priced things like chemotherapy. Medicare supplement plans are designed to fill the gaps in Part A through D plans, which makes them critical for protecting against catastrophic healthcare costs. However, the premiums for the supplement plan add another layer of cost.
Yet another layer of costs are the income-related surcharges on Medicare Part B and D premiums. These can increase the cost of Medicare substantially if your income is high enough. One of the important areas of our financial planning for retirees is to help manage taxable income to reduce the effect of the income-related surcharges.
A program many retirees use for saving on the cost of Medicare is Medicare Advantage. Under this program, coverage is offered by private companies that contract with Medicare. The cost of premiums, co-pays and deductibles can be far less under this program, however there are some serious drawbacks that make it unattractive for many retirees.
ACCREDITATIONS & AWARDS
We're proud to have been honored by some of the organizations in our industry.

MORE Details
Aging at home isn't cheap
It's natural for retirees to try and avoid the high costs of assisted living or nursing home care by staying home. However, this can backfire and end up costing more than planned. For one thing, the cost of home-based caregiver services can be quite high. While there are more retirement housing options available to defray costs (see our article, Retirement Options for Seniors are Expanding), retirees can still get stuck with high costs when getting their care at home. One area that can get very expensive is the cost of modifying or retrofitting your home to help with your long- term care.
Staying healthy is a simple way to reduce costs
Staying healthy in your senior years is sometimes easier said than done. But where possible, lifestyle changes really are an effective way to control medical costs in retirement, to say nothing about living longer and enjoying a better quality of life. Staying at a healthy weight, getting regular exercise and good nutrition, and avoiding the worst things like smoking lowers your risk for some of the most expensive health problems. For instance, you can save a third or more on medical costs by avoiding costly tests, treatments and drugs for ongoing conditions such as diabetes or heart disease.
Re-organizing your planning
For retirees who may have ignore healthcare costs in their pre-retirement financial planning, a little re-organizing may be in order. Knowing your options and making smart decisions to control costs will go a long way toward making sure you can maintain a comfortable lifestyle throughout a long retirement. At Blankinship & Foster, we specialize in helping pre-retirees and retirees move toward and through retirement with clarity, confidence and direction. Contact us to learn more about how we can help you.