After more than two years of being stuck at home, there are a lot of people who are ready to pick up and go. ANYWHERE!
International travel is more "adventurous" in the COVID era- the pandemic is still raging in much of the world, so the possibility that travel plans could be upset by illness or sudden changes in local travel restrictions is quite real. Given this uncertainty, it makes sense to consider buying travel insurance to help recover the cost of your trip if you end up having to cancel it for some reason. The premiums are not trivial, but the insurance provides peace of mind if your plans change suddenly. With a global pandemic changing travel and coverage, knowing the details of your coverage has never been more important.
Here are five things to look for when insuring your travel abroad:
COVID coverage.
Does your insurance policy cover COVID related illness, cancellation, or disruptions? This is not as clear-cut as you might think. Travel insurance is intended to cover unexpected events, but a two-year old pandemic is hardly new or unexpected. Be sure that your policy specifically includes COVID related coverage (or at least doesn't exclude it).
GUIDES
The Essential Guide to Retirement Planning
A 4-part series that answers key questions about building your plan, positioning your investments, and more.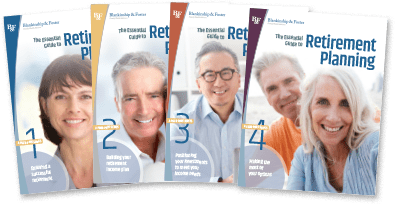 FREE Download
Medical expenses?
Most U.S. health insurance plans will cover life-threatening situations, but there are important nuances so you should contact your carrier to understand the details. Medicare, for example, won't cover your outside the U.S., but your Medicare supplement plan might. If your plan does not provide sufficient coverage, or you plan to be gone more than a few days or weeks, you may want to consider purchasing a dedicated travel health insurance plan. In any event, you should be prepared to pay for medical care up front and be reimbursed later. COVID coverage is also specifically included in many plans available today.
Medical evacuation?
Here in the United States, we generally take good health care for granted. If you become seriously ill or are injured while traveling, your regular medical insurance may not cover the cost of getting you home, or even to better care where you are. Even if you're traveling in Europe, the cost of returning home with nursing and support equipment can be significant. Some medical insurers will only pay for life and death evacuation. According to Consumer Reports, medical evacuation can range from $20,000 – $250,000 so it's definitely worth insuring, even if it doesn't happen very often.
Pre-existing conditions?
Many travel insurance policies will not cover travel interruptions or cancellation from known medical conditions. How this is defined will depend on the policy you purchase. You may be able to obtain a waiver by purchasing your travel insurance within a few days of your first purchase for your trip.
ACCREDITATIONS & AWARDS
We're proud to have been honored by some of the organizations in our industry.

MORE Details
Are you paying for unnecessary coverage?
The cost of replacing a bag of clothes and some toothpaste probably doesn't justify the price of insuring it. And benefits for accidental death due to accidents like a plane crash is going to be very expensive compared to the likelihood of something happening. On the other hand, "Cancel for Any Reason" coverage can help recover much of the cost of an interrupted trip, even due to COVID.
Just buying the insurance is not enough. If you actually have to use it, you may have to fight to get your expenses covered and claims are currently taking a long time to process. Make sure to keep your receipts and document your expenses, especially medical expenses.
Remember that this is insurance. The best insurance policy is the one you never have to use. But the high cost of travel makes it worth considering, especially for medical needs on the road. If you're wondering whether the benefits of travel insurance are worth the cost, ask yourself how much you are willing to lose if the trip goes sour. Travel insurance for a $500 domestic trip might not be worth the expense, but what about a two-week European vacation or an African safari? Definitely.