Many people don't start to seriously think about retirement until they reach middle age, but the earlier you begin to plan for your senior years, the easier it will be to meet future financial goals. Although most can expect to receive social security benefits, the amount will not be able to cover unexpected costs, such as a long term illness.
Married people with children often rely on their partner or children to take care of them when they are older, but what happens if you are single and childless? Careful financial planning is of greater importance for single people, because with no kids or spouse to step in when needed, you lack the safety net that others take for granted. On top of savings for the usual retirement expenses, you will want to set aside funds to provide for future care.
Financial planning for single people should also include designating members of extended family, close friends, and paid professionals who can help administer your legal, financial, and medical directives should you no longer be able to do so yourself.
GUIDES
The Essential Guide to Retirement Planning
A 4-part series that answers key questions about building your plan, positioning your investments, and more.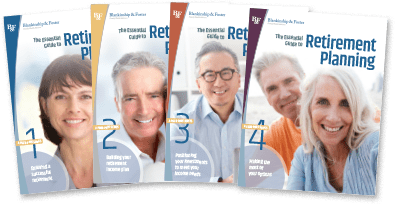 FREE Download
Your approach
Assembling a team of people who can operate as your safety net will help fill the gaps that you may encounter as you age. Starting with a Certified Financial Planner to help you organize your finances, set goals and plan for retirement. Your team should also include an estate planning attorney and a Certified Public Accountant to advise on tax planning.
Another key member of your team to consider is a geriatric care manager. A care manager will help navigate the Medicare system, and organize future care such as finding a home health care aide or long-term care facility should you need it. If you don't have a trusted friend or relative to uphold your financial and health care wishes, you can enlist the services of a professional fiduciary, like a lawyer or accountant.
ACCREDITATIONS & AWARDS
We're proud to have been honored by some of the organizations in our industry.

MORE Details
Our guidance
There are many other unexpected life events for single people to consider when approaching both retirement planning and senior care. Smart investing, assembling a trusted team and revisiting your goals on a regular basis, can provide the security and confidence to know you are prepared for whatever life brings.
When selecting the professionals to walk with you in this process, make sure to thoroughly research their background and client reviews. Blankinship & Foster, a firm of financial advisors in San Diego, has a reputation for getting results and looking after their clients' interests above all else.