My husband and I are planning a trip to Germany in the fall. For me, part of the fun of going on a trip is planning it out ahead of time. I enjoy figuring out where to go, how to get there and what to do. Our trip may not go exactly as planned, but we have a general idea of where we are going. Having reviewed a lot of options and chosen our itinerary, I'm already familiar with alternatives. If changes are needed during the trip, it's easier to make adjustments with an overall plan.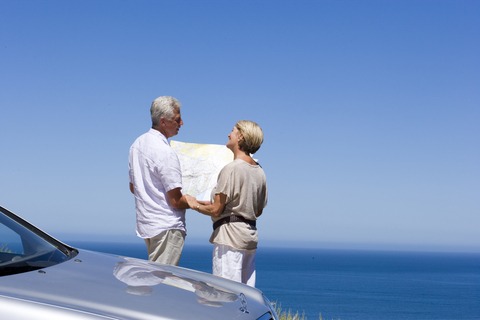 Financial planning is a lot like planning a trip. It's a roadmap of alternatives and choices that you make about your finances which affect almost every aspect of your life. There may be bumps and detours, but if you have a plan, it'll be easier to adjust and get to where you want to go.
Your Financial Planning Roadmap
What does a financial plan look like? It's different for every person. A financial plan should be holistic, looking at all the interrelated parts of one's life. Financial planning starts with your resources (income and assets) and helps you to make choices about what you want to accomplish with those assets during (and after) your life. A financial plan can answer questions such as:
How much should I save for my child's college education?
How much can I spend and how much do I need to save?
Do I have the right insurance for my needs and are my big risks properly covered?
When is the best time for me to begin Social Security?
Will my assets support me the rest of my life?
What happens to my assets at my death or if I'm disabled and can't manage them myself?
What is the best way for me to support my family and community?
Where Do You Want To Go?
Just like planning a trip, the first step for your financial roadmap is to identify where you want to go: your financial goals. What are your hopes and dreams for your family? What kind of lifestyle do you want today and in retirement? When do you want to retire? What do you want to happen at your death?
After understanding your goals and reviewing your financial resources, your financial advisor organizes this information to provide a snapshot of your assets, liabilities and net worth. This is a starting point to begin identifying alternatives and helping you to make choices about your finances.
The next exercise is to understand your cash flow: Where does your money come from, and where does it go during a given year? Income includes wages, a pension, Social Security, rental property or even alimony. Expenses include everyday items such as gas and groceries, rent or mortgage, travel, taxes and even gifts to charity or family. Most of us have a sense of whether we're making more money than we spend, but looking at your cash flow in detail helps clarify what's really important and what your lifestyle needs will be today and in retirement.
Simplifying The Paths For Your Roadmap
Simplifying is an important part of a financial plan. Complexity can take your focus away from what you want to achieve. By removing complexities, you can gain clarity in your finances. Think of it this way: the less time and energy you have to spend keeping track of today, the easier it is to plan and prepare for tomorrow.
One way to simplify is to reduce the number of accounts you have to track. Having too many financial accounts can be confusing and inefficient. As we live our lives, we often end up with several different kinds of accounts with multiple institutions. These could be checking and savings accounts, credit cards, 401(k)s from an old job and other investment accounts. These accounts could include multiple 401(k), IRA, trust and individual accounts. By consolidating as many accounts as possible, it becomes easier to see what you have to work with and to create an overall strategy to get where you want to go. It can also save you time and money on redundant fees.
Implementing Your Financial Planning Roadmap
Now that you have clearly stated goals and a  concise view of your resources, you can make realistic choices about what you want your future to be. This is a financial plan.
One of the most critical parts of your plan will be a clear, concise list of actions needed to make your plan a reality. Life is busy so it can be helpful to have an expert partner in implementing the plan. A certified financial planner can assist with tracking and measuring your progress along your path, keeping your focus on what still needs to be done, and advising you about new choices and changes in direction to be made. Many times, it takes coordination between all of your professional advisors (attorney, CPA, etc.) to put some parts of the financial plan into action.
Monitoring and Modifying Your Financial Plan
After creating a plan, it's almost certain that adjustments will need to be made. As you travel along your roadmap, you will run into unexpected obstacles or your goals may change. A good financial planner will monitor your progress and help you choose which adjustments need to happen along the way.
At Blankinship & Foster, we pride ourselves on the exceptional financial planning work we do for our clients. Let us help you define what road you want to travel, how to get to where you want to go and how to best prepare for the unexpected bumps you may encounter. Contact a Blankinship & Foster Certified Financial Planner® today!