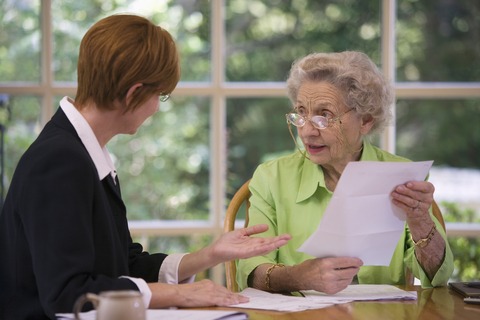 Coping with the loss of a spouse or partner may be one of the hardest challenges many of us face. In the midst of the loss and sadness, there can be a torrent of financial tasks and decisions to be made. Recently, I was reminded of this difficult time when a client explained what her friend who had just lost her spouse was going through. Understandably, she was overwhelmed and didn't know how to proceed. Perhaps the most important advice during this time is to not make a lot of decisions right away. Beyond paying monthly household bills, it's unlikely that you have to act immediately on any financial matter.
Next Financial Steps
In a new study performed by The Family Wealth Advisors Council (of which Blankinship & Foster is a member), the following helpful list was printed with steps you can take to organize your financial future after going through the death of a spouse or partner.
Breathe!
Identify a family member or close friend to go with you to meetings to take notes, ask questions, remind you of details, etc., because you will find it hard to absorb a lot of new information. This person can be your eyes and ears.
Call your financial advisor and ask to schedule a meeting to go over assets, title changes or any other urgent paperwork required to give you access to accounts. Most advisors will make it a priority to meet with you. Do not make any changes to these accounts, simply complete paperwork to get access or to find out what steps you need to take (e.g., get copies of the death certificate). Many advisors will be able to help you create a transition plan.
Ask your financial advisor or any friends who have gone through this experience to provide resources to assist you with education on personal finances, investing and related considerations.
Apply for and collect any money that you are entitled to, such as insurance proceeds from policies your spouse owned, proceeds from employer policies, Social Security survivor benefits and Veterans benefits.
Do not make any major financial decisions (such as selling your home) right away.
Set up a meeting with your estate planner. If you do not have one, ask your friends and advisors for recommendations. You may want to have your financial advisor attend this meeting with you.
Put money from your spouse's or partner's life insurance into a money market or short–term CDs until you have time to speak with your advisors to determine the best long-term plan for your assets.
Transfer your spouse's or partner's retirement plan and/or IRA into your name. Your financial advisor should be able to assist in this process.
Start thinking about your short-term and long-term goals and concerns, which will be important as you update or create your financial plan.
Make sure that you and your dependents still have health insurance. If you are on your spouse's or partner's medical plan, ask about continuing coverage benefits, including COBRA.
Revise your will, power of attorney, beneficiary designations, health care power of attorney and living will.
If any of your advisors do not seem helpful, or they are condescending or unresponsive, ask for recommendations from others who have been in a similar situation or from advisors you trust.
Create a list of accounts and passwords, put it somewhere safe, and let only someone very close to you know where you keep it.
Breathe!
Fortunately, our clients are not left alone to navigate through this confusing and painful experience. We help them gain the clarity, confidence and direction to move forward to the next stage in their life. If you have recently lost a spouse, partner or loved one, please contact us – we are here to help you through this difficult time.