Presenter Allen Hamm: Planning for Your Healthcare in Retirement
The Wise Women Luncheon on October 15th featured Medicare and Long Term Care expert Allen Hamm, who presented, "Planning for Your Healthcare in Retirement."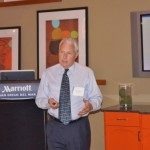 Some key points from Allen's presentation:
Properly planning for higher health care costs in retirement will increase your chances of getting all the care you may need.
It's important to choose your Medicare options carefully, and to meet all enrollment deadlines so you can avoid costly penalties.
For more information about this topic, or more information about our Wise Women series, please contact Teresa Kakadelas at kakdelas@bfadvisors.com.