Giving Wisely to Your Family

The February 25th Living Wisely Luncheon was titled, "Giving Wisely to Your Family."
This event explored the financial, tax, and estate planning considerations of lending and gifting to family members. The group also received ideas on non-financial gifts that can bring joy and pass on family values for generations.
Key points from the event's presentation included:
The Struggle of Giving
Gifting: the Basics
Ground Rules for Lending Money
Gifting and Lending: the Hard Stuff
Other Ways to Give to Family Members
The presentation deck for this event is available for download by clicking on the image below: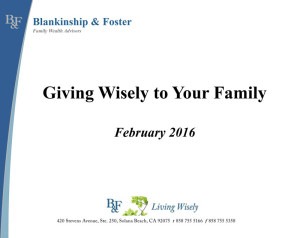 Giving Wisely to Your Family – Download PDF (1.6MB)
If you would like more information on this subject or future Living Wisely events, please contact our office.