As Baby Boomers start to approach their "Golden Years," housing is one of the more challenging issues to plan for. Most senior citizens prefer "Aging in Place" in their own home. However, medical, safety, and economic concerns may make staying in the same house infeasible. The good news is that there are more retirement housing options available to choose from. Here are some of the choices available to today's seniors.
Traditional Options
Independent living communities
Independent living offers a safe and convenient living environment, but with minimal assistance. Residents live in their own private dwelling spaces which are comparable to a townhouse or apartment. They also have convenient access to dining, entertainment and group activities, and hospitality services such as housekeeping and laundry. However, medical services are typically not provided.
Independent living communities are excellent for seniors with limited mobility, but that do not need nursing or custodial care. The community is usually designed with limited mobility in mind. Residents can access all of the community with a walker or motorized chair, and there are safety and access features built in to the individual units as well as the common areas.
Assisted living
Assisted living is a good option for individuals who have difficulty with daily activities at home. Residents at assisted living communities are free to live an independent lifestyle, but also receive regular support for a range of daily activities. Rent, housekeeping and maintenance services, transportation and some meals are typically included for one monthly fee.
Assisted living residents can enjoy a maintenance-free lifestyle, while also taking advantage of events, activities, out-trips, and opportunities for social engagement. Additional care services, such as medication management or assistance taking a shower, may also be available.
GUIDES
The Essential Guide to Retirement Planning
A 4-part series that answers key questions about building your plan, positioning your investments, and more.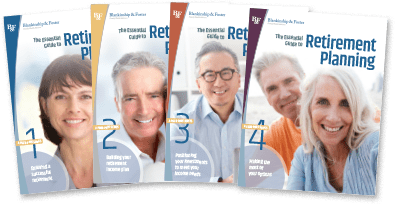 FREE Download
Continuing Care Retirement Communities (CCRCs)
CCRCs offer independent living, assisted living, and higher levels of senior care all on the same campus. This allows residents to easily transition from independent living to nursing home care as their needs increase.
The CCRC option offers the most security and the least disruption for a senior who may need higher levels of care as she ages. This comes with a cost – a large deposit is usually required, and the monthly maintenance fees are typically higher than independent living fees. However, CCRC monthly fees are usually less than what stand-alone assisted living facilities charge. So, if you end up needing a lot of care services, the CCRC can actually cost less over time. And most of the deposit is typically refundable after the resident's stay ends.
Creative Home-based Options
Multi-generational housing
It's very common for seniors to live with younger family members. About 57 million Americans live in multigenerational households. There are good financial reasons for this: Pooled finances go further, and the family can leverage built-in eldercare help.
Developers are starting to build homes that are multigenerational by design: a house that is two separate homes attached by an interior door that can be kept open or closed. An older family member can live in the smaller space, the adult child's family in the other. There are currently over 200 communities in the U.S. that feature multigenerational designs.
Home sharing
To help defray the costs of "Aging in Place", some seniors choose to take on a roommate. If the roommate is another senior who has similar needs, the arrangement could be beneficial. The tenant can share a caregiver or other assistance services, reducing the cost to the homeowner. And having a peer in the house can provide companionship and a degree of safety.
FAQS
We're happy to answer any questions you have about our firm and our processes. Here are answers to some of the questions we receive most frequently.

READ Now
Village model
A new trend that has sprung up is a "village" of individual homes that are linked by a network of seniors helping each other live independently. The network may be informal or it may be a nonprofit organization run by volunteers and paid staff.
On the other hand, there are potential risks. Once moved in to your house, the new roommate is a tenant, and it can be hard to get them to leave if things aren't working out. To reduce the risk of a bad "Home sharing" arrangement, the homeowner and tenant should be well-suited to living together, and any arrangements to share expenses should be spelled out and agreed to in advance.
This model may be very appealing to seniors, because they can stay in their own home but also have access to affordable services, health and wellness programs, and social activities. For seniors that desire to stay in their own homes, this model can reduce isolation, increase access to services, and reduce the overall cost of care.
Co-housing model
"Co-housing", also called "Co-operative householding" is a new type of home that features shared outdoor and inside space. Co-housing projects feature a common house that is shared by all the residents. The common house typically has a kitchen for preparing meals and dining. It may also include a living room or even a bedroom or two for guests or a future caregiver.
Before you decide to move to a new "co-household" home, consider that co-housing is really a lifestyle. If you value your privacy a lot, this may not be the best option for you. On the other hand, if having plentiful company appeals to you, living with like-minded peers in a supportive environment could help you stay independent longer.
Financial Planning for retirees
Planning for aging can be complex, and there are many factors to consider. At Blankinship & Foster, financial planning for retirees is one of our specialties. We help our clients prepare for life events and transitions such as aging and care needs. To learn more about how our proven process, "The B&F Way" helps you navigate life transitions with confidence, please contact us.