A lot of thought goes into choosing investments for you. While our investment and planning process centers around your goals and needs, your investment portfolio is often vital to meeting those objectives. Whether the goal is to maximize long term growth, generate income or keep up with inflation, each investment in your portfolio has a role to play.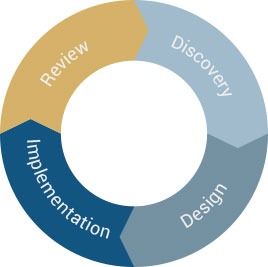 In keeping with our fiduciary duty, we work hard to choose investments that are the best available for you. This is a very high standard – much higher than the brokerage industry's "suitability" standard, where chosen investments must "suitable" for a client but are often better for the business selling them.
At Blankinship & Foster, our Investment Committee is responsible for choosing the investments in your portfolios. The Investment Committee is made up of all the principals and portfolio managers. The committee meets regularly to evaluate market conditions, discuss academic research, oversee your portfolios, and share ideas.
How Our Investment Committee Works
As a part of its regular duties, the Investment Committee will review economic activity, asset valuations, interest rates and other factors that are important variables for investment success. The goal of this analysis is to determine which assets represent attractive investment opportunities relative to others, and possibly to adjust your portfolios accordingly.
In order to capitalize on these perceived opportunities, the committee will review and approve selected securities or investment managers for use in your portfolios. We will also set targets for how much of each security should be included. Recommendations are revisited periodically as conditions evolve or as changes occur in your portfolio holdings.
Our Investment Philosophy
The Investment Committee's thinking is rooted in our philosophy of Investing with Purpose. We maintain a disciplined long-term approach, which often means staying the course in the face of changing circumstances. We don't trade based on "hot tips" or news headlines.
However, this doesn't mean we remain static as the environment shifts. In the spirit of "Kaizen", the practice of continuous improvement, we regularly evaluate and discuss new research, and when the research supports a change in our approach, we adapt our investment strategies accordingly.
Investment markets are constantly evolving, presenting new and different opportunities as market and economic conditions shift. We frequently meet or have in-depth phone calls with managers of new investment ideas. Most don't even make it past our initial review. But for the few that represent better or less expensive ways to access an existing or new investment opportunity, we take the time to analyze them and consider ways to include them when choosing investments for your portfolios.
Putting Investments Into Action
While the Investment Committee recommends the investments and the investment mix for client portfolios in general, it's up to your personal investment manager to implement these recommendations. As part of our Wealth Management Process, we seek to understand your situation, objectives and tolerance for risk prior to investing. With that knowledge, we build a personalized investment policy statement (IPS for short) that serves as the framework for making investment decisions on that portfolio for the next few years. Your planning team will periodically review the IPS to ensure that it remains current with your evolving situation and goals.
Once your portfolio is constructed, we regularly monitor it to ensure that it remains true to your objectives. We rebalance portfolios on an as-needed basis in order to avoid incurring unnecessary taxes or trading costs.
Our thoughtful, disciplined and long-term approach integrates financial planning, tax sensitivity and awareness of investment market conditions to give you confidence that we are working together towards your goals and that you will be financially prepared for whatever lies ahead.
Please contact us if you have any comments or questions regarding our investment process.