As a physician, buying your first home is a major milestone. After enduring medical school, board exams, and residency, you're finally ready to settle down in a place of your own. But do you know how to buy a house as a doctor? What is the best way for you to achieve your goal of homeownership?
With the myriad of mortgage loans available to homebuyers, one type of loan is specifically designed with medical professionals in mind. These mortgages are called physician loans, doctor loans, or medical professional loans. Doctor loans can be a good option for new medical practitioners just entering their fields and not yet earning their top income. Buying a house with one of these loans may be the right choice for you, but it is important to weigh your options.
Facts to consider
Doctors often have trouble qualifying for a regular mortgage early in their career because they usually have a large debt-to-income ratio (DTI) after medical school. Physician loan lending takes this into consideration and makes special allowances for the unique circumstances of a medical career. In lending to medical professionals, banks offering doctor loans will overlook medical school debt when calculating your DTI.
GUIDES
The Essential Guide to Retirement Planning
A 4-part series that answers key questions about building your plan, positioning your investments, and more.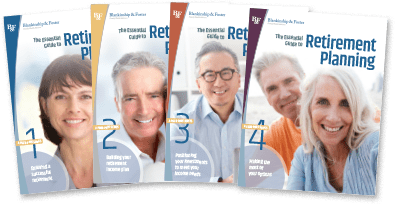 FREE Download
Most physicians complete their training with very little savings to invest in a down payment, and conventional loans typically require 20% down. Doctor loans are different in this respect. Banks offering physician loans require a down payment of 0-10%, making home ownership more viable for a new physician. Lenders will also offer a higher loan amount on a physician loan versus a conventional loan.
Private Mortgage Insurance (PMI) is typically required by banks if a homebuyer's down payment is less than 20% of the purchase price. But because of their career trajectory, doctors have the potential to earn more money in the future and are less likely to default on their loans. For this reason, doctor loans often don't require PMI, even if your down payment is zero. The waiving of PMI by the lender will help your cashflow significantly, saving you hundreds or even thousands of dollars per year.
To recap, benefits of a physician loan include the following:
Doctor loans make allowances for medical school debt.
They require little or no money down.
Doctor loans allow for a higher loan amount.
They don't require private mortgage insurance (PMI).
But are there downsides? Yes.
Doctor loans are typically adjustable-rate mortgages (ARMs) which have a lower initial interest rate. However, after a few years that interest rate will fluctuate and may increase substantially, making your monthly payment higher.
The interest rates of these loans are usually higher than conventional loans which could cost you tens of thousands of dollars over the course of the loan.
Physician loans are limited to homebuyers with solid credit scores in the 720-740 FICO range.
With a higher loan amount and little to no money down, these loans can tempt you to borrow more than you can afford which may hurt you in the long run.
ACCREDITATIONS & AWARDS
We're proud to have been honored by some of the organizations in our industry.

MORE Details
Buying your first home is an exciting time, but also a major financial commitment. There are so many factors to consider, including location, resale value, and financing. Whether you work in a hospital or have your own practice, your time is likely consumed with building your career. For this reason, if you're buying a house as a doctor, getting financial advice from a qualified professional will help you navigate the process and make the best possible decision while considering your future financial goals.
Planning for the rest of your career
If you're becoming a doctor, it's never too early to start planning for the rest of your career. If buying a house and saving for retirement are among your personal goals, consider seeking the advice of experts with experience helping doctors make sound financial decisions. Blankinship & Foster is an independent, fee-only firm with financial advisors for doctors located in San Diego, California. For over 30 years, our thoughtful and dedicated team has been committed to helping our clients secure their financial futures. Securing yours starts with a conversation. Contact us to learn more.