With the pandemic, the war in Ukraine, the instability of the market, and a possible slide into a recession, working with a trusted financial advisor is more important than ever. A good financial advisor can guide you through times of uncertainty and create a sound financial plan. The best financial advisors will empower you to feel secure about your financial future.
Some of the most important milestones of your life – your children's education, owning a home, your retirement – are personal and private. You want financial services professionals you can trust. But in order to find the right fit, you need to know what to look for in a financial advisor. You may need to schedule consultations and interviews with multiple advisors before deciding. In the end, a good advisor should counsel you on your short- and long-term goals, existing investments and tolerance for investing risk, among other topics.
Below are some qualities and characteristics that can make finding a financial advisor easier.
Our list
1.Targets financial objectives
Your advisor should demonstrate foresight when it comes to your financial objectives, and help you develop a financial plan that is future-focused, but also offers strategies for short-term, medium-term, and long-term growth. Each financial planner will have areas of expertise or specialization, so it's important to find an advisor who aligns with your priorities and values.
2. Strong credentials
A fiduciary is someone who has a legal or ethical duty to act in the best interests of their client and disclose any conflicts of interest. The most successful financial advisors are fiduciaries that put the interests of their clients first and their own interests second.
GUIDES
The Essential Guide to Retirement Planning
A 4-part series that answers key questions about building your plan, positioning your investments, and more.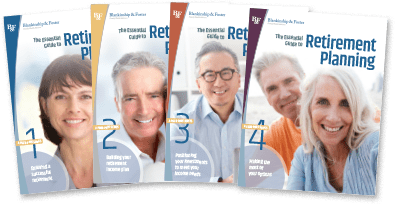 FREE Download
You want to work with a fiduciary who has the required certifications and credentials. A good place to start is by looking for Certified Financial Planners (CFP). CFPs have obtained their certification through the Certified Financial Planner Board of Standards, which is an organization that certifies and sets standards for financial planners in the United States. The CFP certification means that financial planners have the required rigorous education and training and abide by ethical standards regulated by the CFP Board. Additional credentials to look for in an advisor include a CFA (Chartered Financial Analyst) and ChFC (Chartered Financial Consultant). These denote a level of proficiency or training in a specific area of expertise.
3. Communication Skills
Strong communication is crucial to building a solid long-term relationship. Therefore, you and your advisor should set clear expectations for communication, including the method and point of contact. Timing is essential in many financial and investment situations, and you need to feel confident your advisor will respond to you promptly. In return, your advisor should be open to your questions as well. You should feel comfortable asking anything and should receive clear and thorough answers.
4. Focuses on Your Long-term Success
For many people, the number one long-term goal is retirement. But you can't plan for the future without considering your short-term goals. And you can't build for the future if your short-term needs aren't met. Good wealth management advisors will help you achieve your short-term objectives while staying focused on the long-term perspective. Since you'll need income for that entire period, it's important to make your money work for you, and this means managing your principal investment to grow over time.
ACCREDITATIONS & AWARDS
We're proud to have been honored by some of the organizations in our industry.

MORE Details
Your list
When considering what to look for in a financial advisor, your retirement is most likely one of your top financial goals. But what about your bucket list? A good financial expert can help you with both.
At Blankinship & Foster, we take the time to listen to the needs of our clients, analyze their investment opportunities, and help them reach their financial goals. If you are looking for a fee-only wealth management firm in San Diego, talk to one of our experienced advisors today.